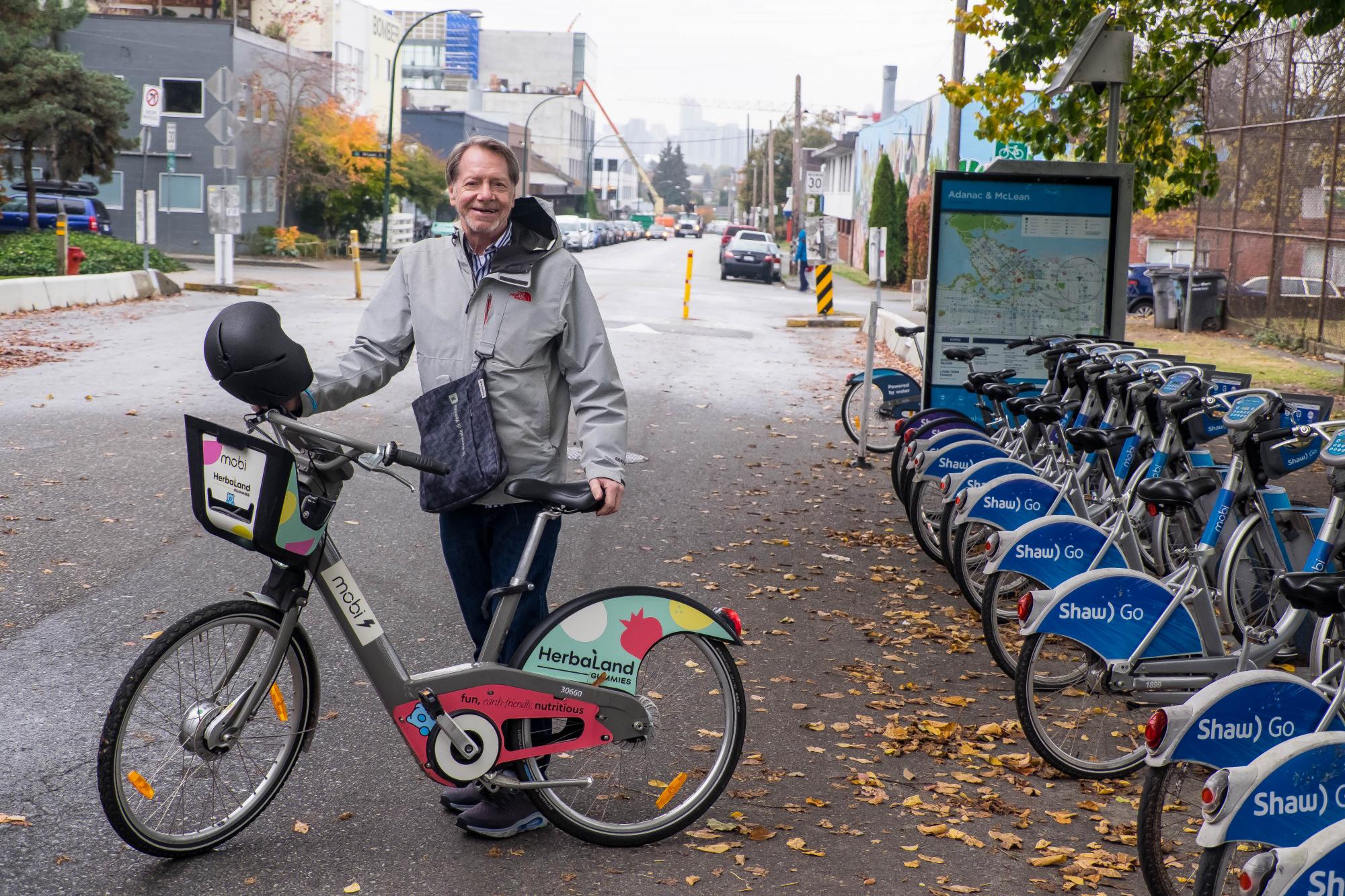 Meet Jeff, one of Mobi by Shaw Go's Community Pass members. After several surgeries, Jeff was no longer able to walk long distances comfortably and turned to cycling to commute in an active and environmentally-conscious way. Jeff enjoys unlimited 60-minute rides on both Classic Bikes and Ebikes through our new Persons With Disabilities (PWD) Community Pass. Jeff will often take two or more Mobi rides every day!
Tell us a bit about yourself, Jeff...
I grew up hiking and climbing the North Shore mountains – and returned as an adult to start a NS Wetland Partners and West Van Streamkeepers group. I'm active in natural restoration on Cypress Mountain and near Lynn Canyon Park with frog awareness and restoration programs. Giving back to my community is a core value of mine and I'm also a participant in patient advocacy and planning at St Paul's Hospital, as well as a long-time community gardener in Nelson Park. So I love that the Community Pass program exists at Mobi by Shaw Go, giving back to the community they operate in.
I'm a bicycle enthusiast – and love that bikes are non-polluting and make a healthier community. Cycling allows me to be outside in the fresh air, when my ambulatory challenges would otherwise keep me indoors.  The ebike program at Mobi by Shaw Go brings me to hills and waters' edge I would not otherwise be able to enjoy. 
I use Mobi bikes to get to doctor's appointments and grocery shopping nearly every day.
How did you get started with Mobi by Shaw Go?
I've had bicycles stolen both from the street and from our bike-area in my apartment basement. My building doesn't allow keeping bikes in the hallway and there's not enough room in the apartment.  Mobi by Shaw Go solved that problem for me.
How do you integrate Mobi by Shaw Go into your life?
I had some leg surgeries and now I can't walk very far – but I can still enjoy cycling.  It helps my confidence knowing I can return my bike at hundreds of stations around town when I need to before catching transit back home!
How have you used bike share during these challenging times?
When I need to get some fresh air I can check out a bike and head to so many places in the central Vancouver area.  With so many Mobi by Shaw Go stations near transit – I can ride further and just leave the bike at a station and take transit home.  This lets me enjoy a longer ride since I don't have to cycle back to the starting station! 
Favourite place to ride and why?
I love that Mobi now has stations at 2nd beach in Stanley Park.  I can enjoy the beautiful views of the harbour through the trees – and if I stay too long – park the bike at a Mobi Station in the park and take my time returning home.  A favourite ride is around the seawall from Stanley Park to the Olympic Village and if I'm energetic I can ride to Vanier Park – and catch a #2 bus back downtown.  Since some buses have their 2-bike front rack already full when the bus arrives, I can avoid waiting for the next bus by parking the Mobi bike at a station and grab the first bus that comes.  This also  lets me enjoy so much more of the seawall than I could with my own bike.
Any messages you would like to pass on to those thinking about getting a Mobi by Shaw Go membership?
A Mobi by Shaw Go membership means you don't need to enter your credit card each time – just tap the fob and start riding!  The membership is less costly than paying for separate rentals – and you can leave your wallet at home!
Is there anything else you would like to add?
The new ebikes are a tremendous help for those of us with mobility issues.  It lets me cycle home up the hill from any of the seaside parks in Vancouver – which I can't cycle under my own power.  I love how this cuts my transit time – without waiting for two buses to get me there. 
Thank you Mobi by Shaw Go for building community in Vancouver !!
Folks with a disability designation, who receive disability assistance, or who are on long-term disability leave can also qualify for our reduced-rate PWD Community Pass at $20/year.
  Apply for the Community Pass Here.