Mobi Member Profile: Meet Peter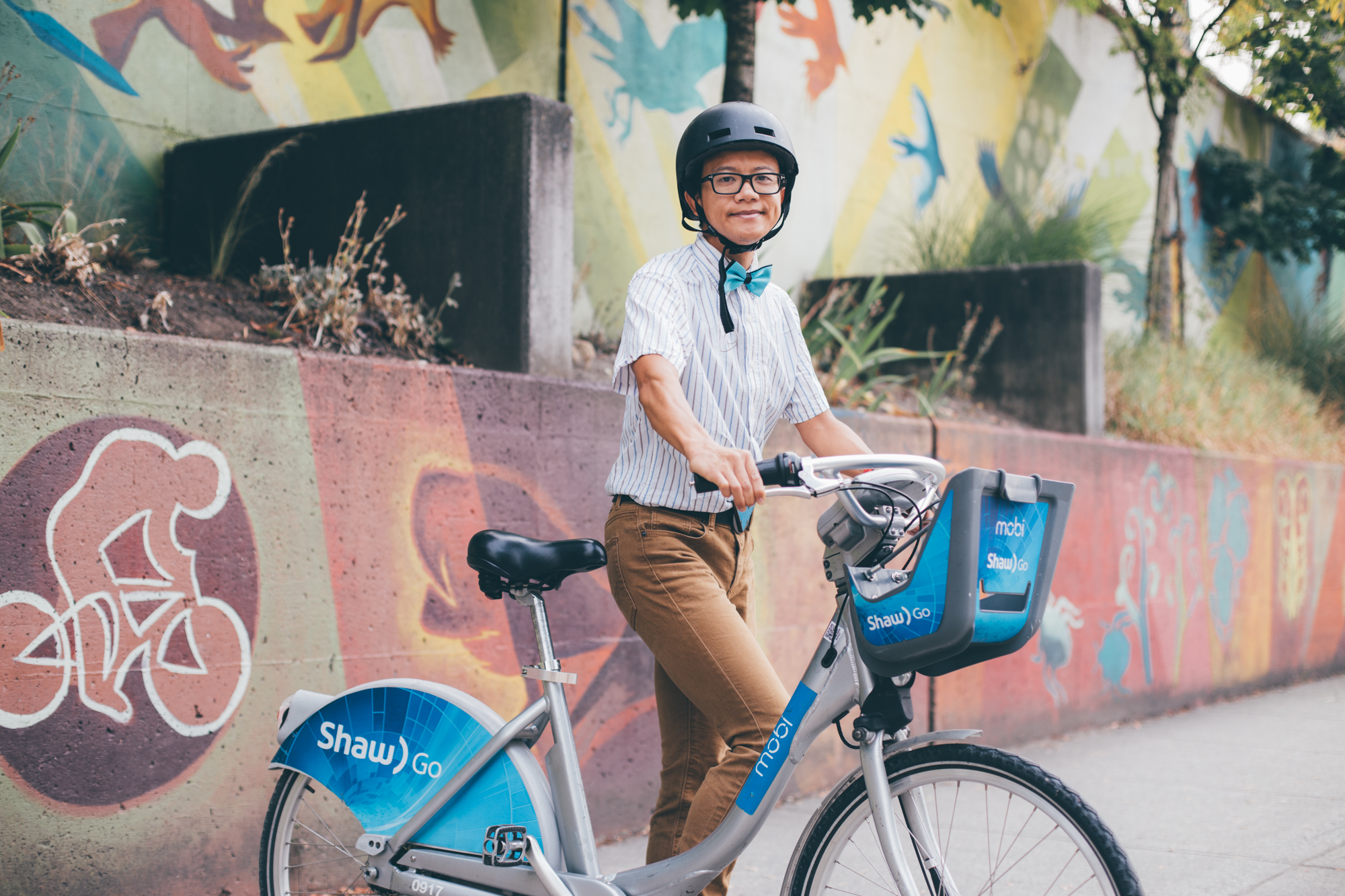 Peter is a Chemist from North Delta, BC. He says his job is kind of like Walter from Breaking Bad (minus the synthesis of illegal substances, organized crime, and unintended family/life consequences). When he's not working on metal-free reductions with hydrosilanes and ionic liquids, he enjoys reading comic books, playing retro video games, riding bikes, watching the Canucks (in good times and bad), camping, and hiking. He also really enjoys scouring the city looking for Mobi by Shaw Go's themed bikes. He says, "it's like playing 'Where's Waldo' in the city on a bike"!
We asked Peter a few questions about his experience with Mobi by Shaw Go. Here's what he said:

1) How did you get started cycling?
I started commuting by bike during graduate school in Victoria after I realized it was more efficient than walking or taking public transit. It was really hard at first; even the smallest "hills" were agonizing! I kept cycling every day and eventually got really strong. Some of my best memories on a bike are racing the bus up and down the hill to and from UVic.

2) How do you integrate Mobi by Shaw Go into your daily routine?
I use Mobi by Shaw Go for everything! I visit my parents near Commercial Dr. I bike to shops and restaurants in Kitsilano, Fairview, West End, Commercial Dr, Gastown, and Yaletown. I go for long and short runs to and along the seawall and then I pick up a Mobi to go home. I bike to Britannia pool to go swimming. I cruise the seawall for fun and exercise. I use Mobi frequently for trips to the grocery store. A round trip to the grocery store I like takes me about an hour if I walk. It is a 15 minute round trip on a Mobi. I like to go grocery shopping every two or three days to get fresh fruit and vegetables, so it saves me a lot of time! I even take a Mobi two blocks to the post office and back to pick up a package (I did the math; Mobi is faster unless I run).
3) Where is your favourite place to ride a Mobi by Shaw Go and Why?
I like biking along Waterfront Road near Crab Park. You can see the Canada Place sails, the Seabus, West Coast Express trains, Port of Vancouver, north shore mountains, and Burrard Inlet. The road is never busy. Perhaps the drivers do not know about it (Ssshhhhhh don't tell them). There is a little-known bike path connecting Waterfront Road and the seawall near the float plane terminal at Canada Place.

4) What is your favorite part of Mobi by Shaw Go?
Mobi by Shaw Go takes the best parts of bike ownership and public transit/bus while removing their respective hassles.
I love getting around town by bike, but I have to carry a bike lock, tools, spares, lights, and helmet. Bike maintenance becomes expensive, particularly in the winter. Cleaning my bike is time-consuming. Bike theft is a persistent stress. Mobi by Shaw Go obliterates all these bike ownership problems.
I like to think of Mobi by Shaw Go stations like bus stops and the bike as a bus. However, I do not have to wait for a bike to arrive on schedule; I do not need to transfer at a mid-point station to reach my destination; the bike does not stop to pick up other passengers. I do not need to walk an extra block or two from a bus stop on a major street to reach my destination. Mobi by Shaw Go is direct A to B public transit and it is way more fun to ride a bike than ride the bus!

5) Do you have any Mobi by Shaw Go tips or tricks?
Invest in some cycling-specific winter/rain clothing, particularly clothing with wind breaking and water repellent material such as Gore-Tex, and you can bike through the Vancouver winter! I wear a cycling-specific balaclava, fluoro-colored jacket, fluoro-colored gloves, and pants. Even on some of Vancouver's coldest and wettest days I am still riding a Mobi by Shaw Go to do my errands. Cycling-specific winter/rain clothing does cost a bit, but so does using public transit. The money I saved using Mobi by Shaw Go through the winter I used to purchase cycling-specific cold/rain clothing.
6) Words of encouragement for new users?
Take a look at the cycling system map by the City of Vancouver or on Google Maps. There is no need to cycle along congested streets like Hastings, Main, and Broadway: Union/Adanac, Ontario, and 10th Ave., respectively, are bikeways that are traffic calmed and have push-button signals for cyclists to cross major roadways. Also keep an eye out for bike boxes (in green) along roadways to make a left turn. There is no need to bike along a crosswalk or make an awkward maneuver to navigate an intersection. Watch YouTube videos to learn how to properly use a bike box.

7) Is there anything else you would like to add?
Report bike or station deficiencies to Mobi by Shaw Go (via Twitter or e-mail). I consider Mobi by Shaw Go a co-op where I share the responsibility to ensure the bikes are operating effectively for all of the users. The Mobi by Shaw Go bikes need maintenance just like any regular bike. The least I can do is send Mobi staff a message indicating which bike needs service. Mobi has rebalancing staff (wave to them while you are biking and they will wave back!) who are on the streets moving bikes from full stations to empty ones and they can easily pick up a reported bike that has mechanical problems and take it to their mechanics for repair.

It does not matter what kind of bike you are riding, as long as you are having fun. I have a super fast road bike, a commuter bike, and a Mobi by Shaw Go membership. I have fun riding any bike. Ride bikes. Have fun.