Vancouver Bike Share unveils the program's name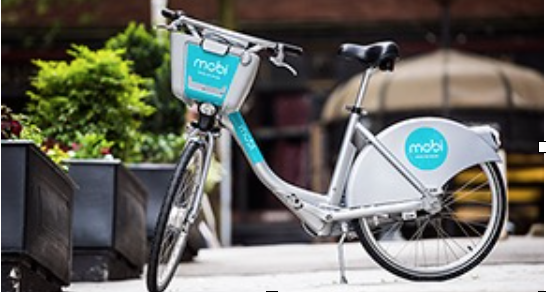 Introducing Mobi, bikes we share
The name selected for Vancouver's new bike share program to launch this summer is Mobi
(pronounced moe-bee).

Great addition to our active transportation network
"Vancouver already tops North America for active transportation. Adding Mobi bike share to
the mix will help further extend the reach of walking and transit trips, and change the way people
get around Vancouver," says Mayor Gregor Robertson. "Mobi will be a great addition to our active transportation network, giving Vancouverites and visitors safe, convenient, and fun mobility to get
around the city."

"At its most literal, Mobi stands for 'more bikes'," says Jerry Dobrovolny, general manager, engineering services. "But the spirit of Mobi reflects mobility, motion and momentum – everything that makes cycling in Vancouver an exhilarating experience." 

"Our tagline, 'bikes we share', really reflects the community-based nature of the program," says Mia Kohout, general manager at Vancouver Bike Share Inc. (a subsidiary of CycleHop), the firm contracted by the City of Vancouver to operate the program. "It's about sharing bikes, sharing the space, and sharing our city," she adds.

Bike share locations
Both The City and Vancouver Bike Share Inc. are working to finalize preparations for bike share to launch this summer, which includes identifying the best locations for public bike share stations to help fill the gaps in the active transportation network. 

A total of 1,500 bikes at 150 stations will be available by the end of summer 2016.

Initial service area
The initial service area will include the Downtown Peninsula, bounded by Arbutus Street, 16th Avenue, and Main Street.

Discounted memberships now available
Founding memberships are now on sale for $99 or $129 for one year depending on the plan chosen, reflecting deep discounts of close to half price, only available until June 30, Kohout says. "People who buy founding memberships will get the best deal and have the flexibility to grab a Mobi whenever they need one," she adds.

About the bikes
Vancouver's Mobi bikes are "Smart Bikes" and can be activated and unlocked from a docking station through an interface on the bike or through a payment kiosk, making them an easy and convenient option for short trips. Helmets will be available on bikes at no additional cost.