Member Profile: Meet Kashe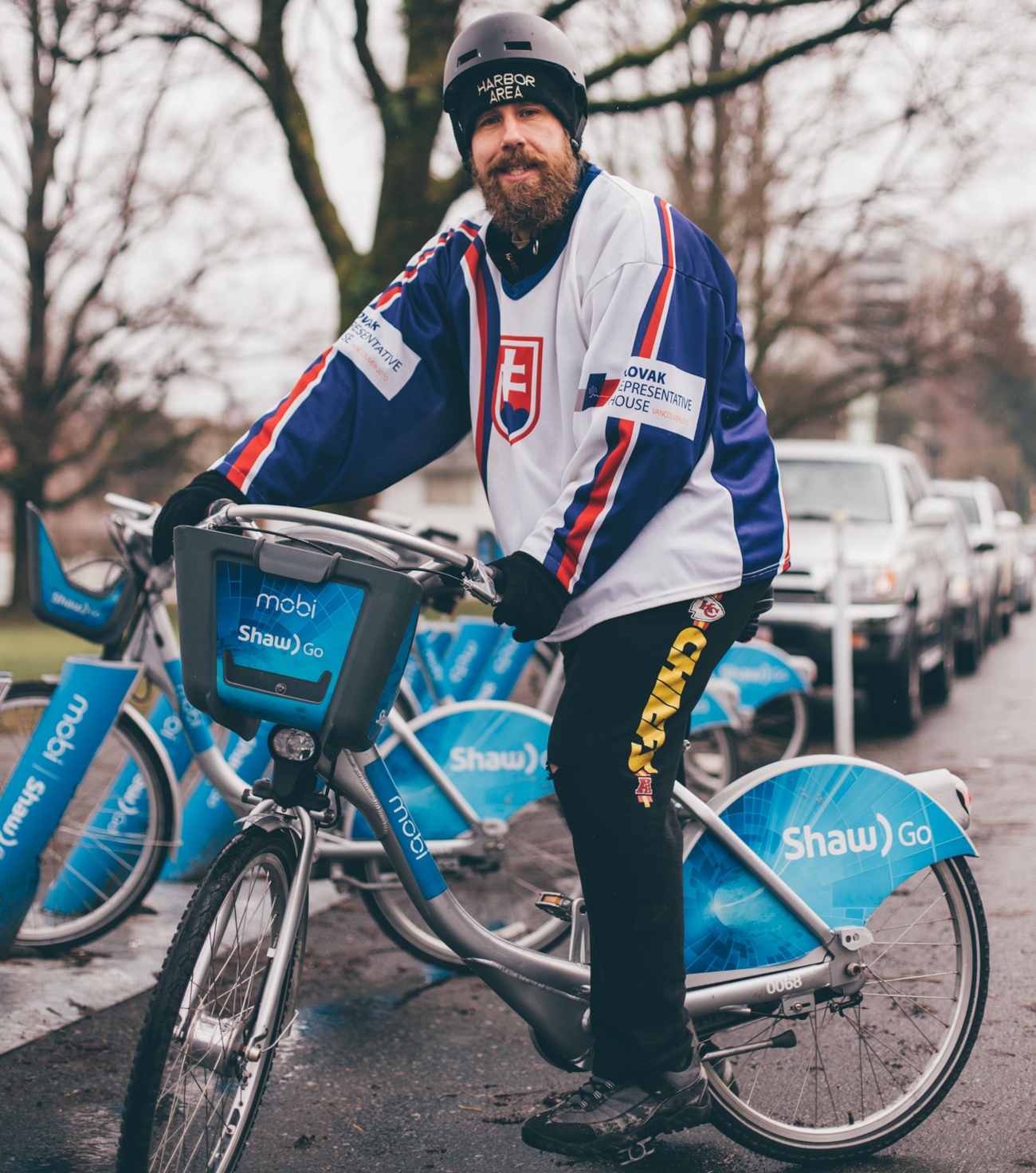 Kashe grew up in the West End of Vancouver and has been enjoying this city ever since. He spent his youth mountain bike racing and was on Team Canada's Mountain Bike team. In 1990, Kashe went to the UCI Mountain Bike World Championships in Durango, Colorado where he was injured in a crash. Even so, he never gave up on his passion for biking. He uses Mobi by Shaw Go every day and has integrated biking into all aspects of his life since signing up for a Vancity Community Pass.
We asked Kashe a few questions about his experience with Mobi by Shaw Go.
1) When was the last time you rode a bike?
A few minutes ago! I rode to the Mobi by Shaw Go office for this interview.
2) How do you integrate Mobi by Shaw Go into your daily routine?
I use Mobi by Shaw Go in my daily routine to get from place to place. I have been walking a lot less since getting a membership. I use it to get to the grocery store, to the SkyTrain and to visit my kids at school. It is like a car, but better! I ride the bikes at night because they have a light on them and the basket is super helpful for carrying things. I use the bikes to collect bottles and take them to the bottle depot. I also use the bikes for exercise and to clear my mind - they are great for your mental health.  
3) Where is your favourite place to ride a Mobi by Shaw Go and Why?
Stanley Park, because of the beautiful view of the ocean and the North Shore mountains.
4) What is your favourite part of Mobi by Shaw Go?
My favourite part of using the Mobi by Shaw Go system is that I can use them without having to worry about my own bike being stolen. The bikes are also very convenient and located all around the city.
5) Do you have any Mobi by Shaw Go tips or tricks?
Yes, Mobi members should know about the Stopover feature on the bikes, which lets you lock the bikes temporarily so you can run a quick errand.
Have fun and watch out for cars, sometimes you think they see you but they don't.
Enjoy the beautiful weather of Vancouver, biking is fun even in the rain!
6) Any messages you would like to pass on to those thinking about getting a Vancity Community Pass?
Signing up for a Vancity Community Pass would be good for you because riding is good for your health, faster than your feet and is much better waiting for the bus. Using Mobi by Shaw Go expands your horizons and opens you up to the rest of the city. You can go to new places!
7) Is there anything else you would like to add?
Riding Mobi by Shaw Go makes me happy and puts me in a good mood. When I don't ride I can notice a difference in how I am feeling. I like to add more fun to my rides by looking for specific bikes that have murals on them or special numbers like my birthday. It's such a great way to explore the city - I even saw an eagle once while riding!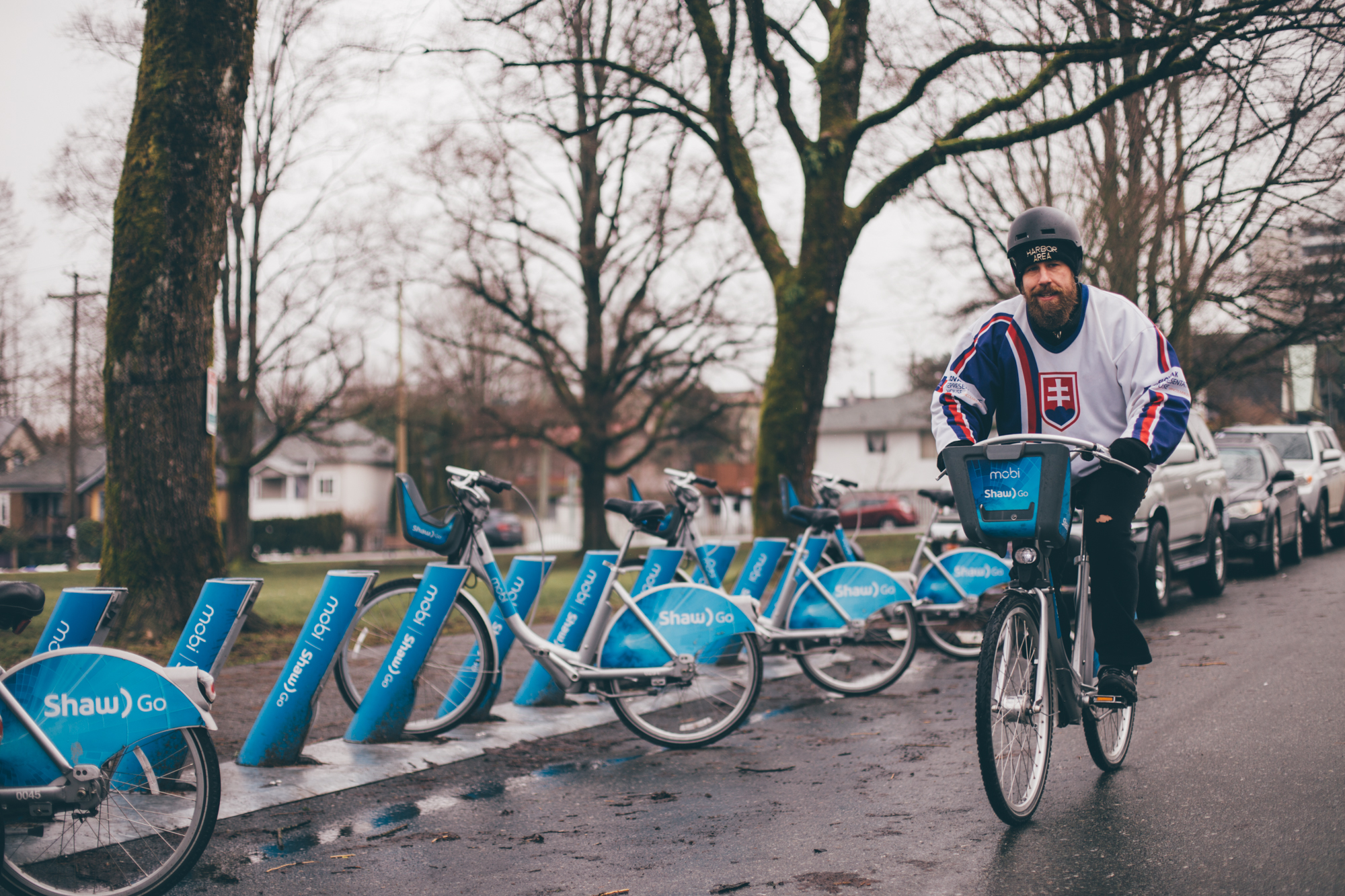 Do you have a Mobi by Shaw Go go story you would like to share with us? Email us your name and social handle at marketing@mobibikes.ca.