Shaw Introduces Youth to the World of Active Transportation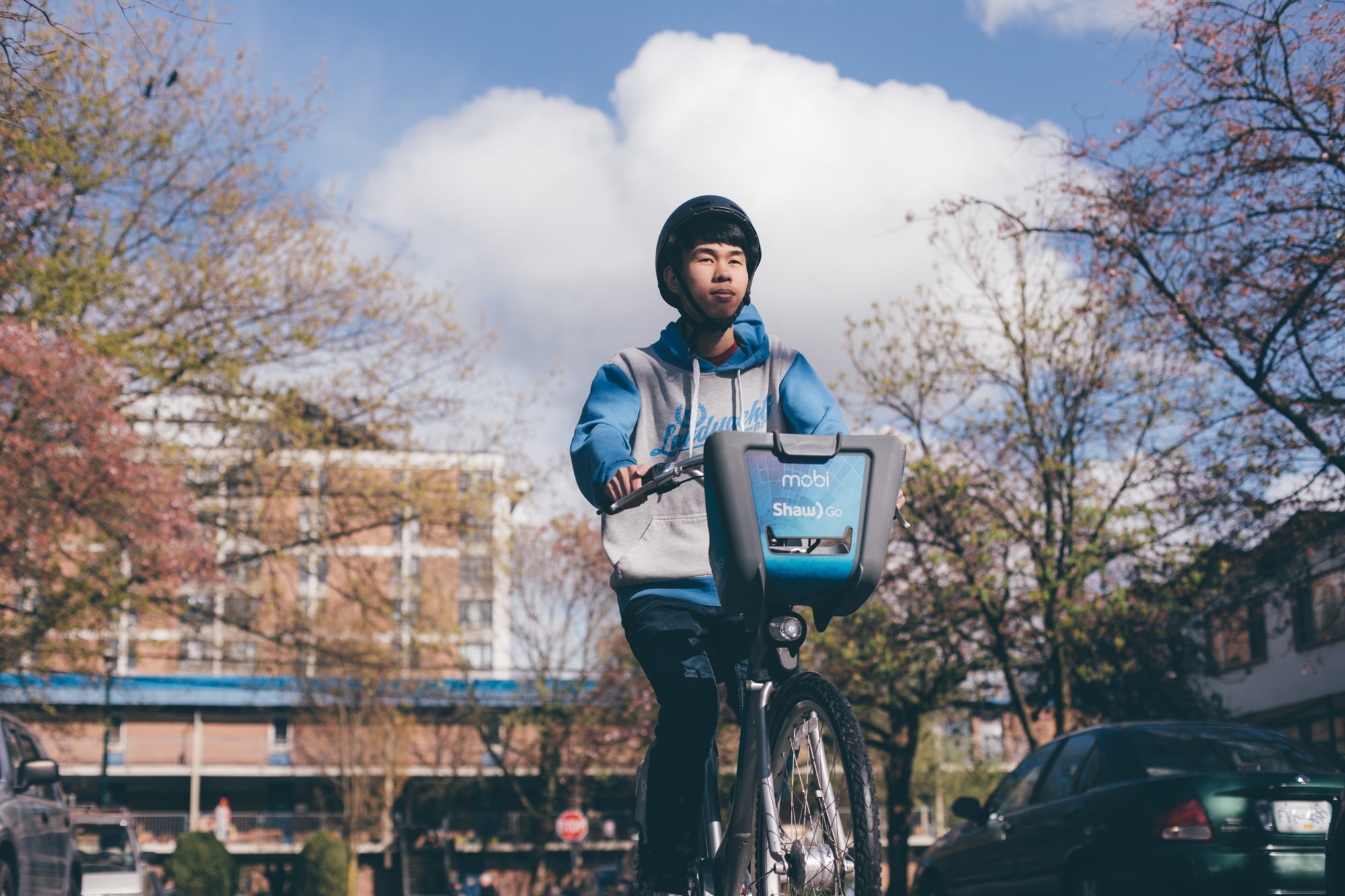 Since 2018, Shaw Communications has donated Mobi by Shaw Go passes for youth at Pathways to Education. This donation of 500 Community Passes to Pathways to Education provides youth 365 days of access to bike share and unlimited 60 minute rides. This donation has changed the way youth in Vancouver's Downtown Eastside get around. Introducing the youth at Pathways to bike share has connected youth to the world of active transportation, provided them with a sense of independence as well as better connected them with their community. 
Success Story
Through the Community Pass, Mobi by Shaw Go has partnered with 45 community partner organizations including Pathways to Education. These partnerships have been important in connecting individuals with the Community Pass. Pathways to Education has been one of our most engaged community partners, facilitating 395 sign ups/renewals. The most used stations for the Community Pass are Keefer & Princess and Britannia Parking Lot;  these stations are close to Pathways youth's homes and Pathways programming as well as Britannia Secondary School where most Pathways youth attend school. With increased station use in Strathcona - largely by these youth - Mobi by Shaw Go recently added three new stations to the area.
Mobi by Shaw Go has become so important to the youth and staff at Pathways to Education. Due to financial barriers, many of these youth do not own their own bikes. Those who do own a bike do not like to leave their bikes locked up at school or in their community because of high bike theft rates. The Community Pass has allowed these youth the freedom to go more places. Bike share has become many of the youth's primary modes of transportation which allows them to bike to school, to participate in extracurricular activities, to attend Pathaway's programming, to travel to work and to visit family and friends. Mobi by Shaw Go has also made it possible to get the youth together in the summer for group rides and to explore new areas of Vancouver.  
Through this partnership, Shaw Communications, Mobi by Shaw Go and Pathways to Education have engaged the next generation in environmentally-friendly transportation. These youth are the future of bike share and they rely on Mobi by Shaw Go to get them where they need to go. Through the continuation of this program, Mobi by Shaw go will enable youth in the Downtown Eastside to access resources that reduce barriers to education.
Pathways Program Highlights.
Trips: 18,805
Distance Ridden: 40,582 km
Most Rides in a Day: 92
Most Used Stations: Keefer & Princess, Britannia Parking Lot
As of April 6, 2021
Testimonials
"My family has really enjoyed using the Shaw Mobi Vancity Community Pass. It has been super convenient for us to get to school, and really great for leisure purposes. With many Mobi bike stations, my family and I bike much more often than before. We love the Vancity Community Pass!" - Helen Su, Pathways youth
"Having access to Mobi Bikes has been a fantastic benefit for the youth of the neighbourhood allowing them to get to and from school and extracurricular activities easily, cutting down the expenses for the household. In addition, the staff team have been able to use the bikes to get to and from youth meetings which is quicker than transit therefore allowing for more time with youth." -Joan Kennedy, Youth Outreach Worker
"Mobi bikes have provided an opportunity for the youth and their families to stay active together. Famlies would often go biking along the seawall in the summer. " - Kathryn Wong, Youth Outreach Worker
"The young people have had the opportunity to be more environmentally friendly, for transportation, or for their enjoyment. They have the option to sleep in a few more minutes because it is quicker to cycle to school than to walk or take the bus." -Brenda Lao, Academic Program Facilitator
"The Mobi bike passes also have a role in building community and a place to learn new skills. I've seen young people teach their peers how to ride bikes with the help of Mobi. With the easy accessibility of Mobi bikes, young people are now able to go on bike rides together, explore the city and also learn/teach how to ride bikes." -Jenny Zheng, Youth Outreach Worker  
"The Mobi passes have allowed some participants to transition to Grocery Card support as access to bikes has eliminated the barrier of travel to and from school/Pathways. We were also able to add biking trips to our summer programming." -Tyler Dobbin, Youth Outreach Worker
"It's been a huge boost in recreational and physical activity for our youth. We see them biking to and from school often, and it helps them get to school on time as many of them find it faster than taking the bus! A few youth either don't have their own bikes or have had their own bikes stolen, so Mobi Bikes gave them access to biking without the added cost of owning one." -Rebecca Tsang, Youth Outreach Worker