Vancouver's Best Bike Lanes with a View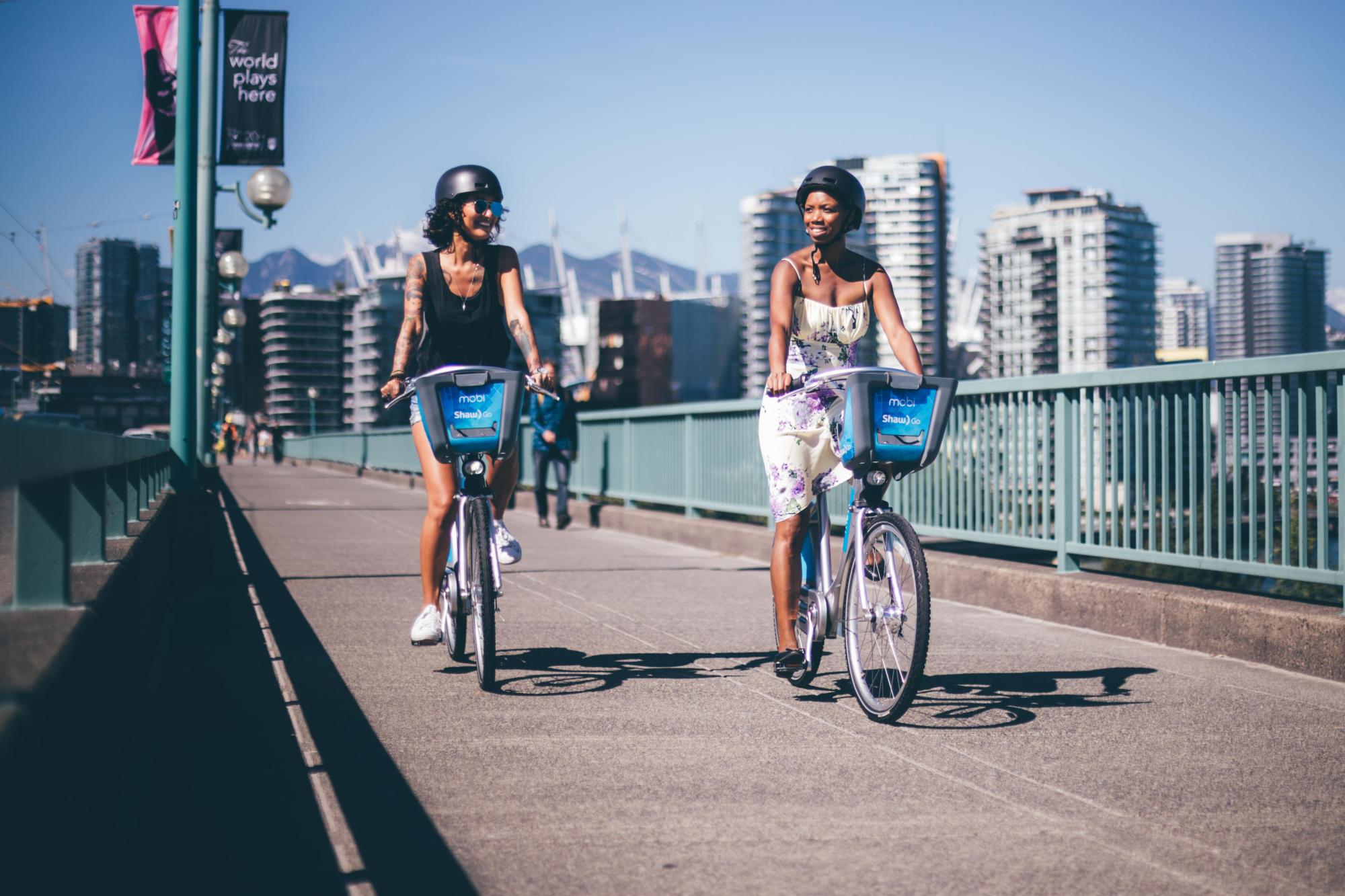 Vancouver bike paths are everywhere. There are separated bike lanes to get you safely through the downtown core, dedicated bike routes along many main arterial streets, and roads that are designated for bikes and restrict through traffic. While these bikeways provide cyclists a safe way to get around, not all are created equal. Some routes take you along beautiful tree-lined streets or boast stunning views of the city without you even having to leave the seat of your Mobi by Shaw Go bike.

Use the interactive map below and discover our favourite bikeways that provide views worth going out of your way for.
 
10th Avenue Bikeway
The 10th Avenue bikeway stretches from Victoria Drive to Kitsilano's Trafalgar St. The bikeway sees over 500,000 cyclists travel on it each year making it one of the busiest east-west bikeways in the Vancouver cycling network. The corridor takes you through the heart of Mount Pleasant and connects destinations such as Vancouver General Hospital (VGH) and Commercial Drive.
Heritage homes bursting with colour give you plenty to look at while riding under a canopy of leaves created by the massive trees that line 10th Avenue. The 100 block of 10th Avenue was once voted the 'Most Beautiful Block" in the city and you'll know why as soon as your ride through it.
Burrard Bridge & Cambie Bridge
Recent upgrades to these two bridges have made cycling across them much safer and more enjoyable. Instead of slowly weaving through a maze of pedestrians and cyclists, you can now feel safe taking in the incredible views along dedicated bike paths.
As you cross Burrard Bridge, North America's busiest cycling route with an average of 3,100 riders per day, it's tough to look away from the views of English Bay and the North Shore Mountains. Consider pulling over so you can fully appreciate it.
Cambie Bridge provides a slightly different perspective with unobstructed views of False Creek and Vancouver's skyline. If you're heading south over the bridge you get views of Olympic Village and Vancouver's City Hall.
West Waterfront Road
This bikeway is one of the best-kept secrets in the city and offers an incredible view of Vancouver's skyline, the Port of Vancouver, and the North Shore Mountains.  It's also a great way to bypass much of the downtown core if going between East Vancouver and Coal Harbour.
To access the almost-deserted West Waterfront Road take the overpass at the north end of Main Street. You'll be rewarded with a view of some of Vancouver's most iconic buildings before joining the bikeway and riding past Crab Park. As you continue along West Waterfront Road you'll pass under the Vancouver Convention Centre and eventually join the Seawall near Harbour Green Park.   
Off-Broadway Bikeway
A portion of this bikeway travels along 7th Avenue through the neighbourhood of Fairview. As you ride along you'll have a fine view of the city core and the North Shore Mountains, hence the neighbourhood's name. If you like architecture this route provides a great view of the Vancouver House, one of the city's newest and most striking buildings.
Houses and apartment buildings, unfortunately, obstruct much of the northward view along 7th Avenue. The best lookout spots are at the intersection of 7th and Oak or 7th and Alder or from Chocklit Park which sits right between the two.