Where and Why you Should Ride this December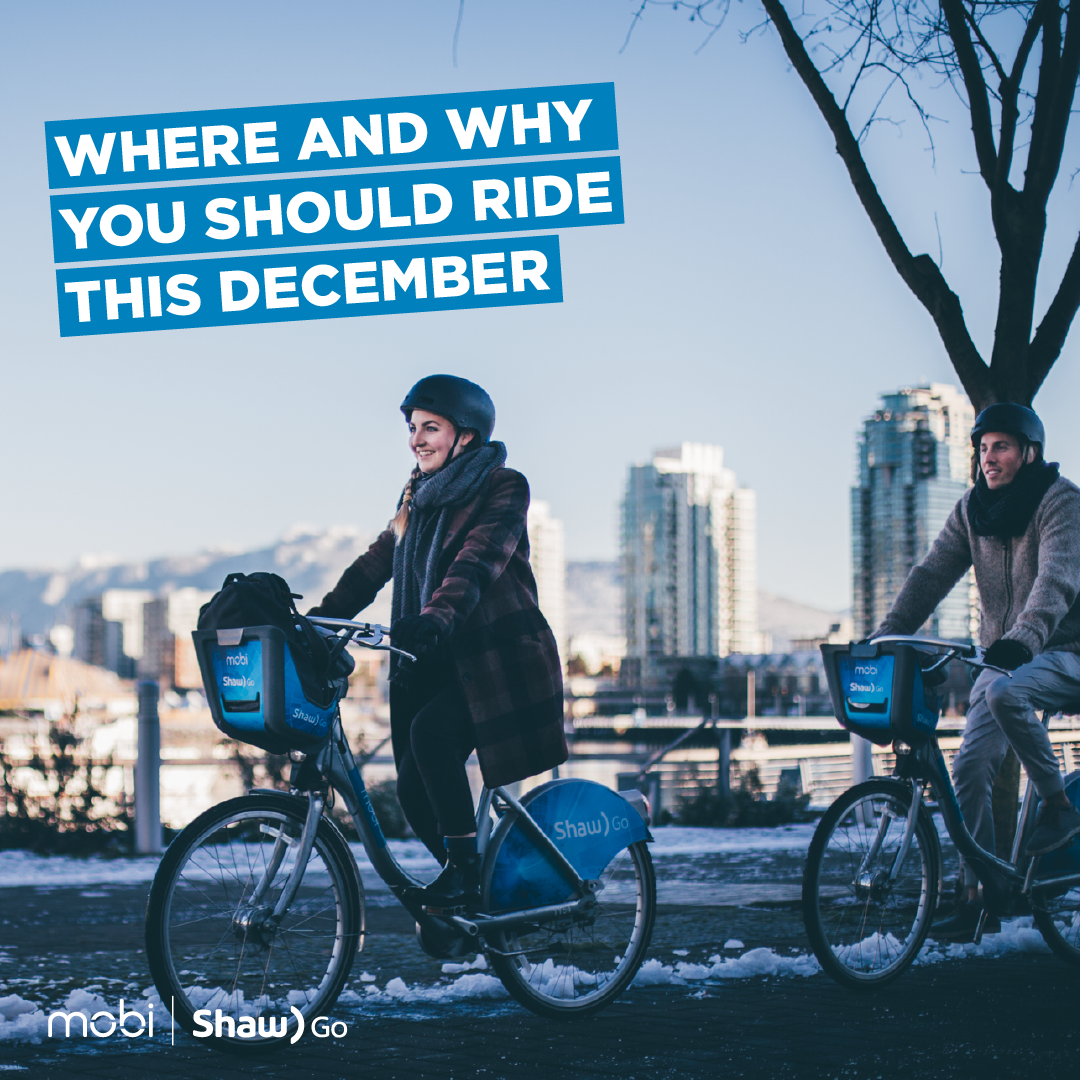 Though the night sky appears much earlier these days, Vancouver has never been brighter. Buildings and trees are adorned with twinkling lights that shimmer with a certain magic and ignite the five-year-old festive spirit that lives in us all.  

At first, it might seem to be a daunting activity—bundling yourself up to ride through winter snow, ice, rain or even just cooler temperatures. But give it a chance. The rewards are many. And with the promise of a hot chocolate or beer at the end you'll have no problem braving the cold. 

We've got a few tips below on how to stay warm and where to go to warm up.  
Cold weather riding tips:
Keep those hands warm and wear gloves
Wear just enough layers to be slightly cold when you start pedaling. You'll warm up quickly. If you need to shed a layer just put it in the basket.
Keep the head warm. You lose a lot of heat through your head. Consider a tuque or headband to put below your helmet
Take your time and brake early - especially around turns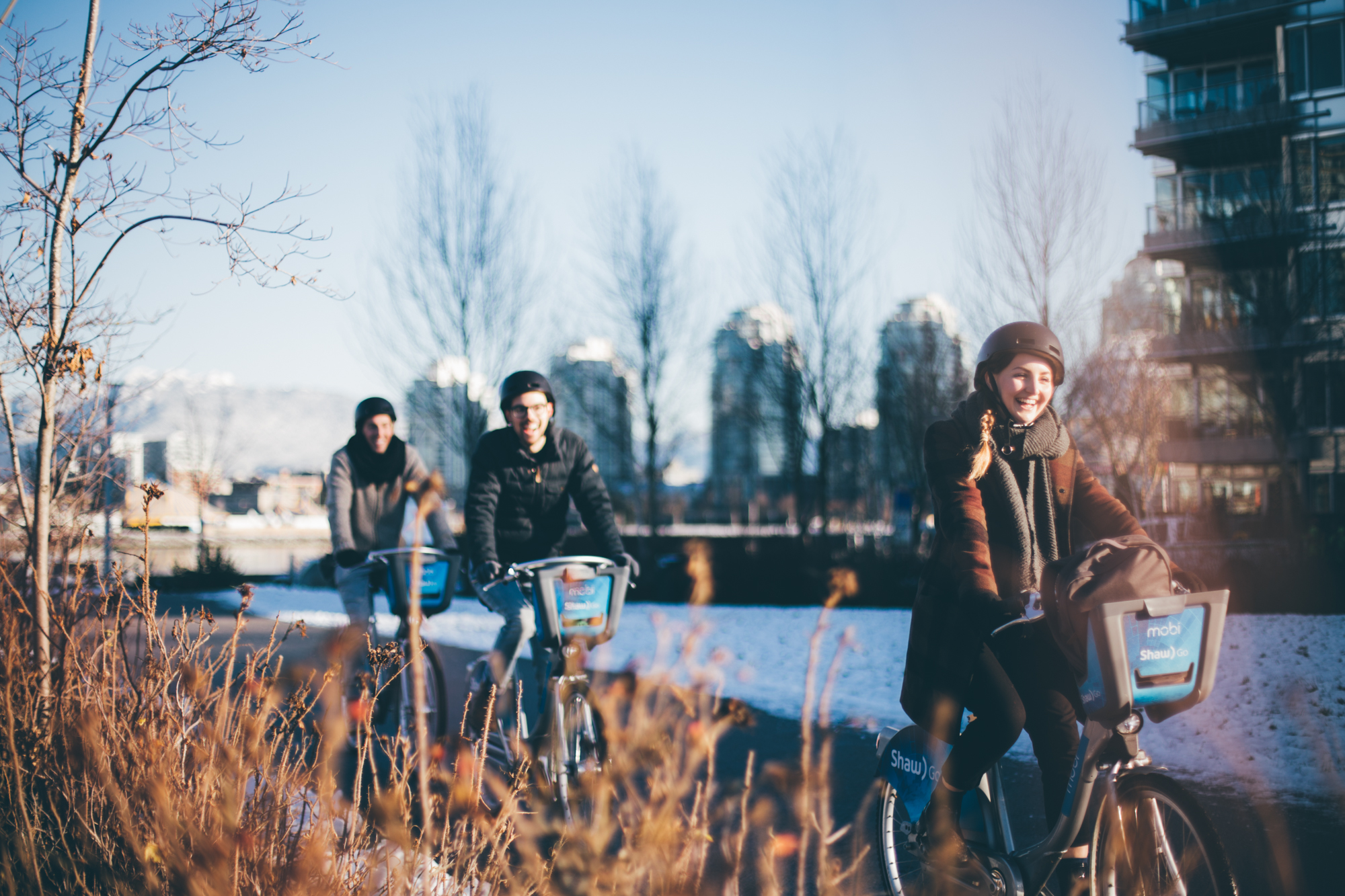 Where to Ride
There's no need to roast chestnuts when you can ride to the Vancouver bars and caffes to enjoy delicious food and drink right by a crackling fireplace!

Bars with a fireplace
 
The Red Accordion
Offering a "homey" vibe, The Red Accordion boasts a cozy space with live music, and a great happy hour. Whether you're hungry for delicious comfort food, or just thirsty for a cocktail by the fire, the eclectic vintage decor makes this a must stop location during your holiday ride.  
The Morrissey
If you're looking for something a little more rock and roll than The Red Accordion, The Morrissey is a nice modern pub with a good selection.  Perfect for a drink on a winter night and especially cozy when you can snag a seat by the fireplace. 
Coffee Sho
ps with fireplace
49th Parallel Coffee - Main Street
The perfect place to end or start your ride with friends. Enjoy coffee and taste freshly made Lucky's doughnuts. With bare brick walls, clean cut wooden furniture, and a warm atmosphere make up the ideal setting for a relaxing moment with friends or family. 
Aperture Coffee Bar
A cozy coffee bar on West Broadway with great food and great drinks. There are couches and a fireplace that make for a very merry atmosphere, unexpected from a storefront on a busy section of Broadway. 
Events & Places to Visit
With exciting holiday events happening all around the city, everyone can find an activity that fills them with cheer!
Santa Claus Parade
This year's Vancouver Santa Claus Parade will feature marching bands, dance troupes, festive floats and community groups. At 12:00 pm, the parade will begin at West Georgia Street and Broughton, travel east along West Georgia, turn south on Howe and finish at Howe and Davie. 
Vancouver Christmas Market
The Vancouver Christmas Market brings this festive Old World tradition to Vancouver. This cherished holiday event offers an authentic German feast for the senses. Stroll the twinkling pathways of a European-inspired Christmas village in the crisp winter air until December 24.
Mobi by Shaw Go members save $3.99 on a Fast Pass with promo code:
ShawGO
Robson Square Ice Rink
This winter, renew a classic Vancouver tradition and enjoy some old-fashioned fun. Robson Square's outdoor skating rink is open, so celebrate winter in style with skating in the heart of downtown Vancouver. Open November 30 - February 29
Gingerbread Lane at Hyatt Regency
Located at 655 Burrard Street near Georgia, the edible Gingerbread Lane buildings are lovingly made by different bakeries, cooking institutes, restaurants, public schools and other people and organizations from around town. On display from November 30 until December 31.
Eastside Flea Holiday Markets
Get excited for another round of Holiday markets, back at Eastside Studios at 550 Malkin Ave! Open every weekend until Sunday, December 15. Tis the season to shop local! Featuring TONS of locally-made and vintage goods, you're bound to find exactly what you're looking for!