#ArtBikes 2020 Artist Spotlight - Shary Bartlett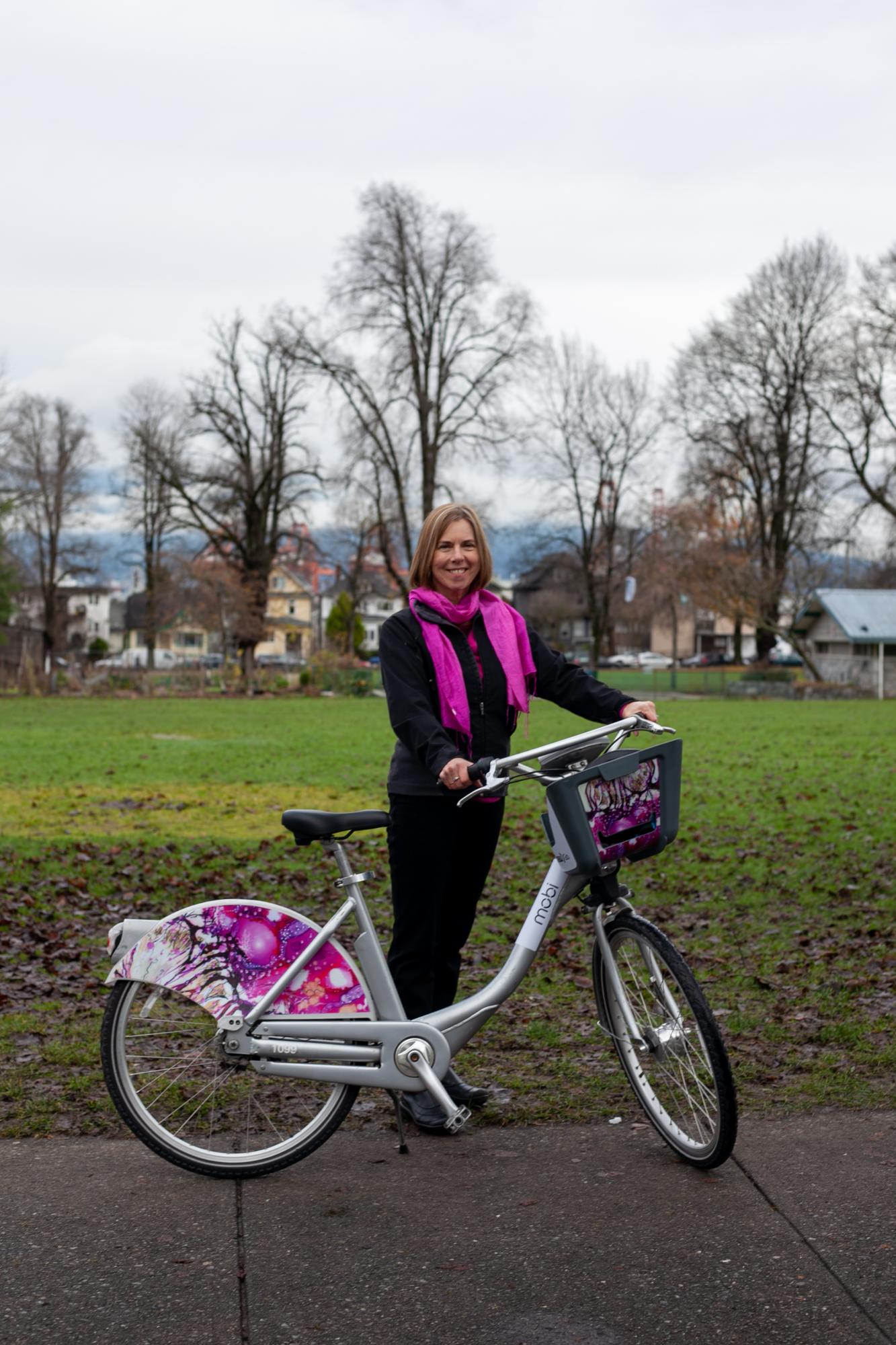 Everyone is a-buzz about
Eastside Culture Crawl
artist Shary Bartlett! Read on  to learn all about her unique work process (hint: bees), and the inspiration behind it.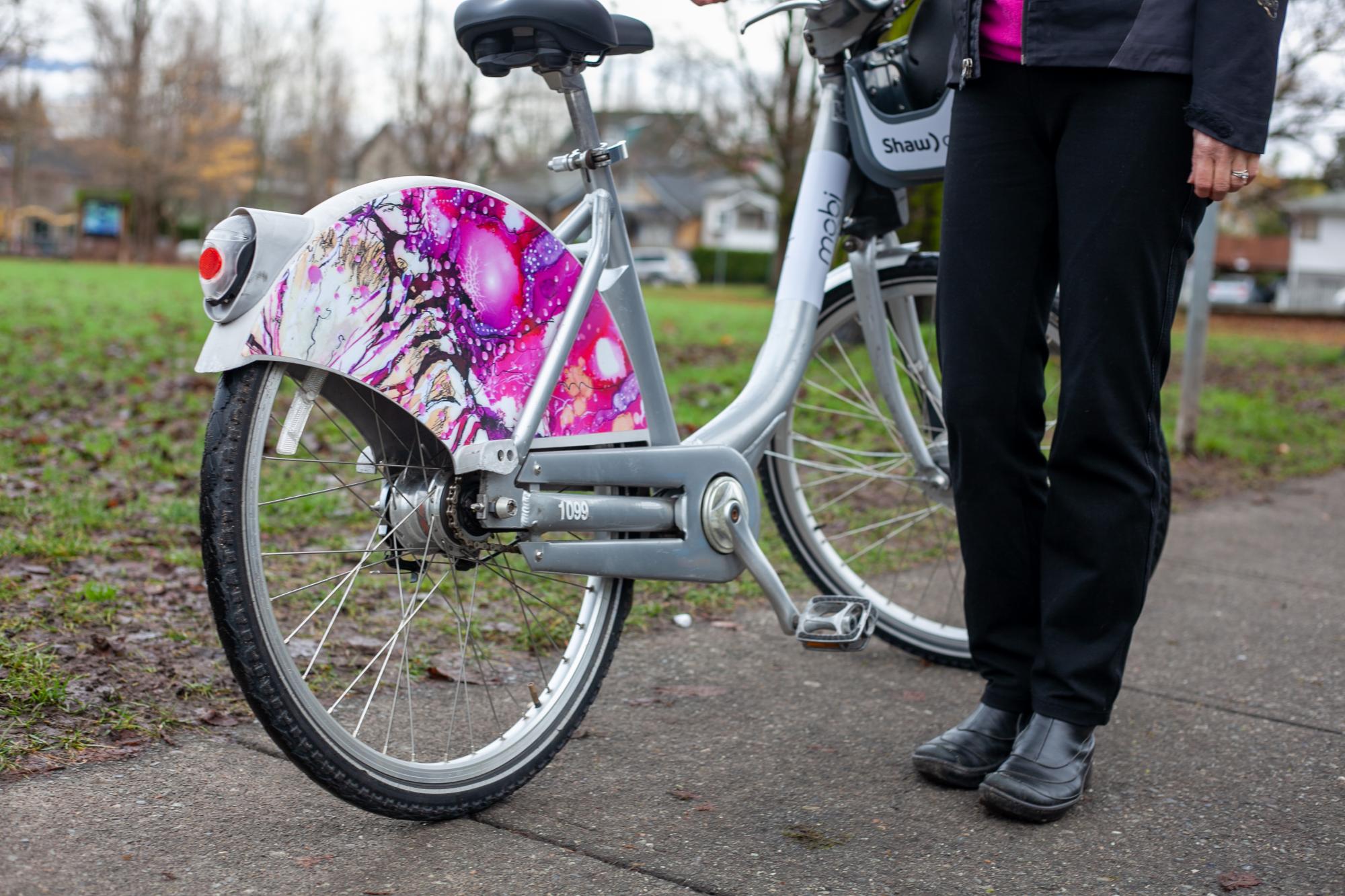 Can you tell us a bit about yourself and your art?
I'm a Vancouver-based mixed media artist who works with a rather unusual medium:
molten beeswax! Encaustic is the ancient art of painting with beeswax. It's an incredibly
beautiful, translucent and luminous medium with a hard surface that can be carved,
layered, textured, or buffed to a glassy smooth shine. My paintings are primarily
inspired by nature, so beeswax is the perfect painting medium.
Have you participated in the Eastside Culture Crawl before? 
I've been inspired by the Eastside Culture Crawl for decades, however, this is my first
year participating as artist. Of course, it was an unusual year, given the COVID-19
pandemic and the challenges this raised; however, the Crawl staff were incredibly
resilient and supportive in responding to the challenges. This year afforded artists a
host of social media and virtual opportunities to reach beyond our usual Vancouver-
based community to a global audience.
Where do you draw your inspiration from when creating art?
I'm primarily inspired by biomorphic organic forms found in land and undersea life – like
plants, flowers and animal organisms. Living in Vancouver, on this perimeter between
the land and sea, there is natural beauty and inspiration everywhere! I'm also energized
by my painting media of alcohol ink and encaustic wax, which cause unpredictable,
abstract images to emerge that hover between familiar natural forms and the delights of the imagination. I'm fascinated by these shapes which I enhance with gestural pen and ink lines, wax texture and colour.
Tell us more about the design you submitted?
This painting, called, "Bursting Forth," is part of my series called "Inexorable Growth." I
love how this image - that looks like it may be a vegetable, flower, or maybe even a
jellyfish - positively pulses with energy. I imagined this vigorous, hot pink dynamism at
the wheels of a Mobibike, powering its rider up and down the hills we enjoy in this city. I
love cycling in Vancouver and I know I can always use a bit of cosmic "oomph" behind
my bicycle! This nature-based design also reflects Mobibike's environmental
stewardship values. It's an honour to have my work on a Artbike; thank you for your
support and this creative opportunity.
What is the main message of your work?
I live, always, in awe of nature's beauty, complexity and the cycle of life. I'm reminded
how we as humans impact our shared ecosystem in powerful and profound ways, and
our responsibilities in creating a sustainable future. Art is an international language that
tells stories and touches us deeply – both emotionally and spiritually. Art can be a tool
to heal, educate, reflect, focus and take action on what is important. Art makes us
happy and makes the world an even more beautiful place to live!
Where can members find your art online/offline?
Online:
Website: 
www.sharybartlett.com
 - Best place to find everything about my art:
galleries, sales, publications, books, videos, upcoming workshops and more.
Newsletter:
Shary@sharybartlett.com
- Sign up and learn more about encaustic and my
work.
Instagram:
@sharybartlett
- I'm very active, posting art inspiration daily.
Facebook:
@sharybartlettartist
Youtube:
Shary Bartlett
Offline
:
I welcome studio visits by appointment, following Covid 19 regulations. My studio is
situated at 435-1000 Parker Street in Vancouver. Contact me:
shary@sharybartlett.com
Check out my website for current national and international exhibitions.
What's the best piece of advice you've been given as an artist?
To listen to, and follow, your heart. No one experiences the world quite like you. Your
voice is unique, and the world will be enriched by seeing your heart-felt creative
expressions. Another piece of advice I always try to remember is to feel grateful.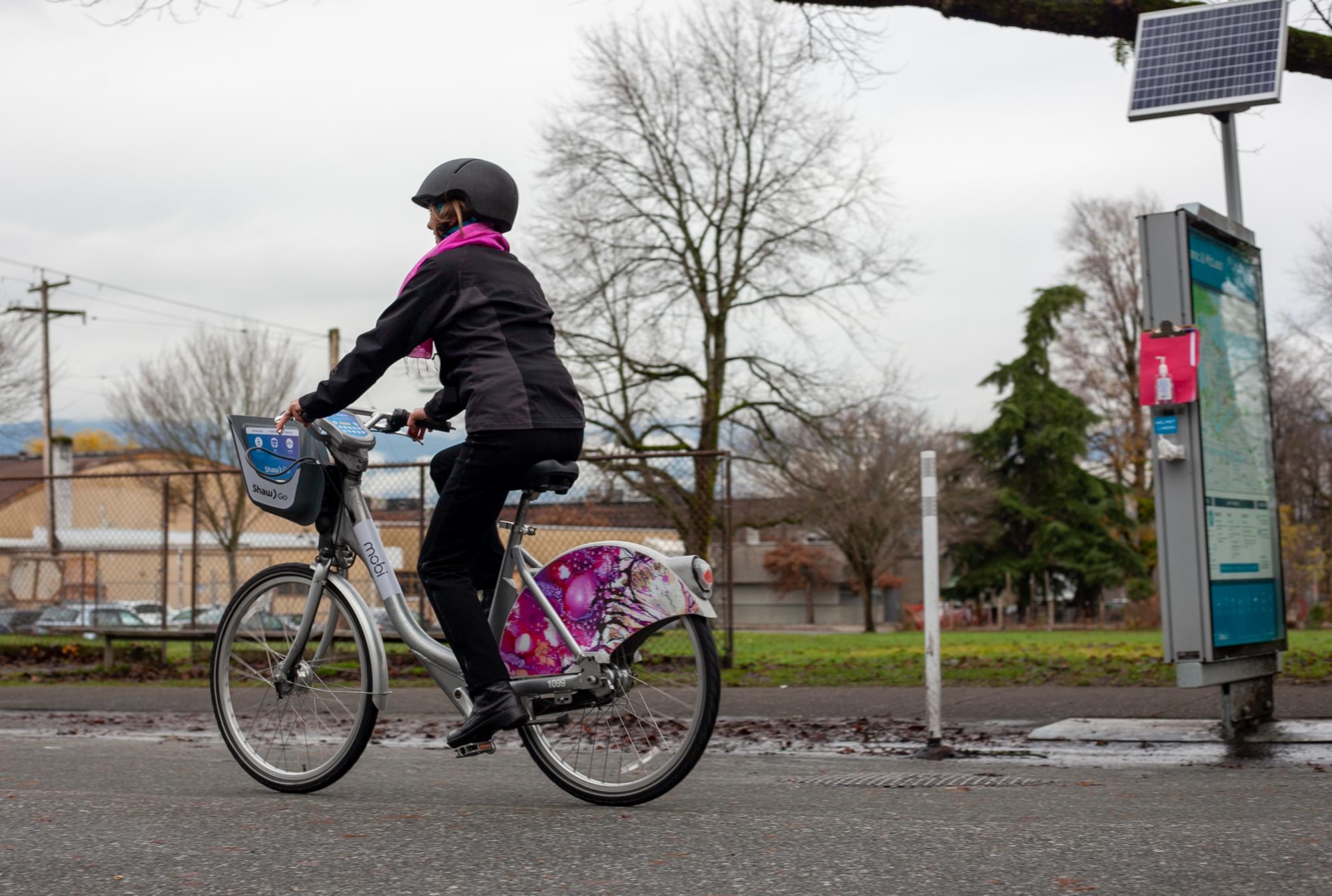 Thank you for sharing your work with Vancouver Shary!