Celebrating two years of public bike share in Vancouver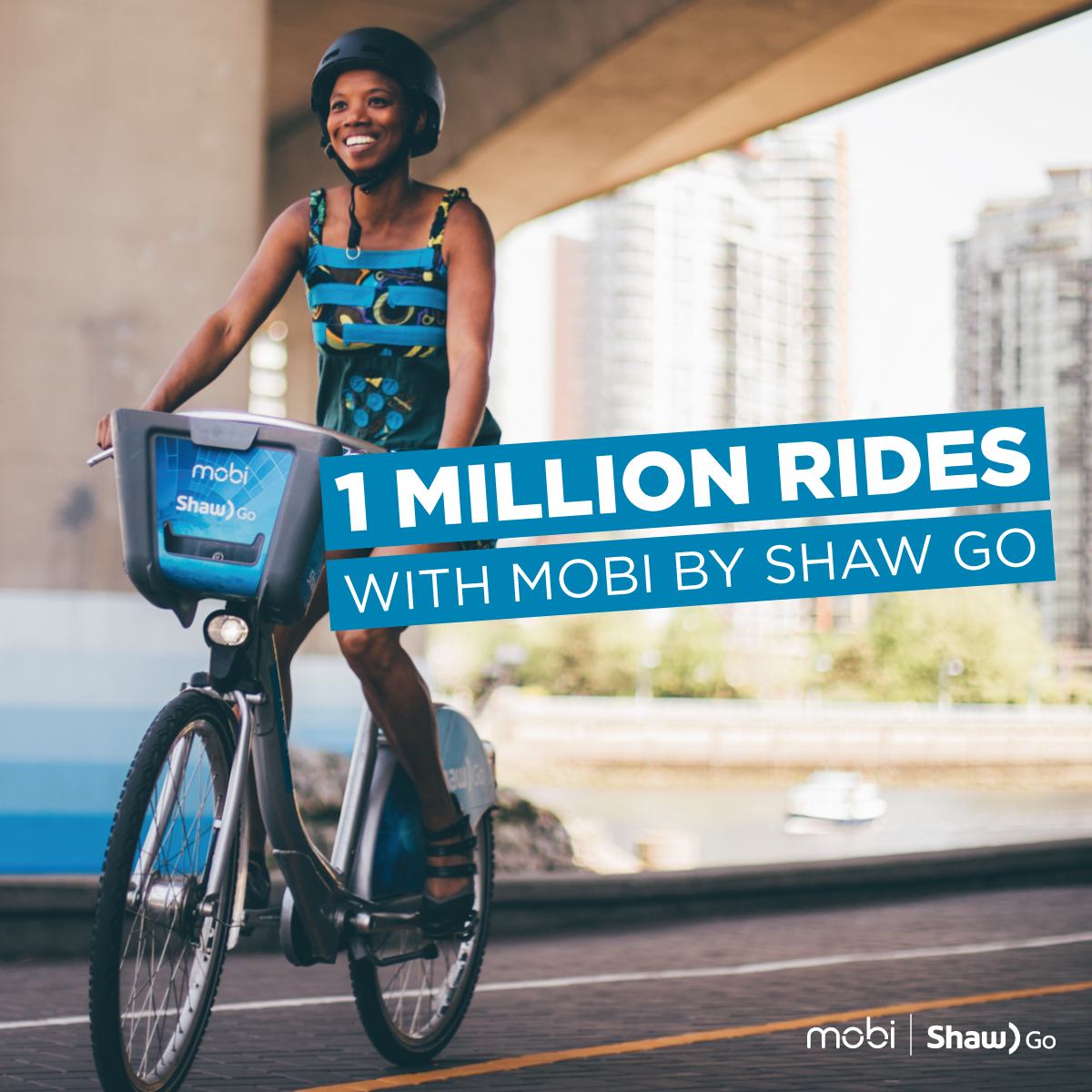 Vancouver's public bike share system is marking two years of helping residents and visitors get around Vancouver with over one million rides.
 
Over one million rides in two years

Launched two years ago on July 20, 2016 by the City of Vancouver and Vancouver Bike Share Inc., the system has been eagerly adopted by Vancouver residents.

In its inaugural year, Mobi by Shaw Go saw exceptional uptake with over 35,000 users by fall 2017. Today, Mobi by Shaw Go boasts 154 stations, over 1,500 bikes, and over 1 million rides covering over three million kilometres – making a big contribution towards encouraging more people to cycle. 

"Mobi by Shaw Go is a tremendous success and has quickly become a valuable part of Vancouver's active transportation network, with over 400,000 rides covering a million kilometres in its first year alone," said Mayor Gregor Robertson. "Over half of trips in Vancouver are made by walking, cycling and transit – Mobi has made short trips between transit stops more convenient and with the recent initial expansion to Commercial Drive, connecting to Vancouver's active transportation network is easier than ever before!"
Great ways to use bike share

Mobi by Shaw Go remains popular for:
Commuting to work and zipping to meetings
Taking one-way trips or linking with other modes like walking or transit to run a quick errand or to socialize
Taking a leisurely ride to enjoy the fresh air
Mobi by Shaw Go continues to expand and grow – July is on track to be the busiest month to date with over 3,300 rides per day on average and July 11, 2018 has proven one of the busiest days with almost 4,000 rides.  
"It has been so exciting to see the growth of Mobi by Shaw Go in two short years. Hitting these major milestones of 154 stations, 1,500 bikes, and over 1,000,000 rides is a major accomplishment for our hard-working local team. And with more expansion coming this summer, this incredible ride will continue to roll. We want to thank our members and our partners for helping us to make bike sharing in Vancouver the success it has come to be" says Mia Kohout, General Manager of Vancouver Bike Share Inc. "Happy 2
nd
 Birthday Mobi by Shaw Go!"  
To celebrate the two-year anniversary, Mobi by Shaw Go is offering discounted "365 Day" passes from now until 
July 22, 2018
. Visit 
https://www.mobibikes.ca/en/2nd-birthday-sale
 for more details.
$30 off the 365 Day Standard Pass (promo code 2ndbday1)
$40 off the 365 Day Plus Passes (promo code 2ndbday2)
To learn more about Vancouver's public bike share system, visit 
vancouver.ca/bikeshare
.  
Mobi by the numbers
1,000,000+ total rides since July 20, 2016
Average of 2,500-3,000 rides per day in warmer months
3.12+ million kilometres travelled to date
19 minutes: average trip duration
~3 kilometres: average trip distance 
A timeline of Public Bike Share in Vancouver
October 31, 2012: Council approves the Transportation 2040 Plan, which highlights public bike share as an area of focus
February 23, 2016: City of Vancouver announces bike share partner, CycleHop Canada
May 20, 2016: Public bike share gets its name: Mobi, bikes we share; founding memberships are launched
July 20, 2016: Mobi launched to founding members
August 18, 2016: Mobi launched to the general public, reaches 700 rides a day
October 28, 2016: Mobi reaches 100,000 rides
December 6, 2016: Shaw Go sponsorship announced, Mobi becomes Mobi by Shaw Go
May 3, 2017: Vancity signs on for a one-year partnership as the Education and Safety Community Sponsor of Mobi by Shaw Go 
May 2017: Corporate Memberships launched
June 2, 2017: Mobi by Shaw Go arrives in Stanley Park
July 1, 2017: Mobi by Shaw go hits a record 3,915 rides 

in one day

July 18, 2017: Mobi by Shaw Go marks one year anniversary
April 20, 2018: Mobi by Shaw Go reaches Commercial Drive
June 14, 2018: Mobi by Shaw Go launches the Vancity Community Pass and rider minimum age is lowered to 12 years
June 21, 2018: 7-Eleven Inc. signs on as Mobi by Shaw Go Community Sponsor
Find a map with live stations including number of bikes and open docks available at each station, plus more details on pricing, on the 
Mobi website
.
Source:
 City of Vancouver: 
https://vancouver.ca/news-calendar/celebrating-two-years-of-public-bike-share-in-vancouver.aspx
Date: 
July 20, 2018