What to Do in Mt. Pleasant with Your Bike Share Bestie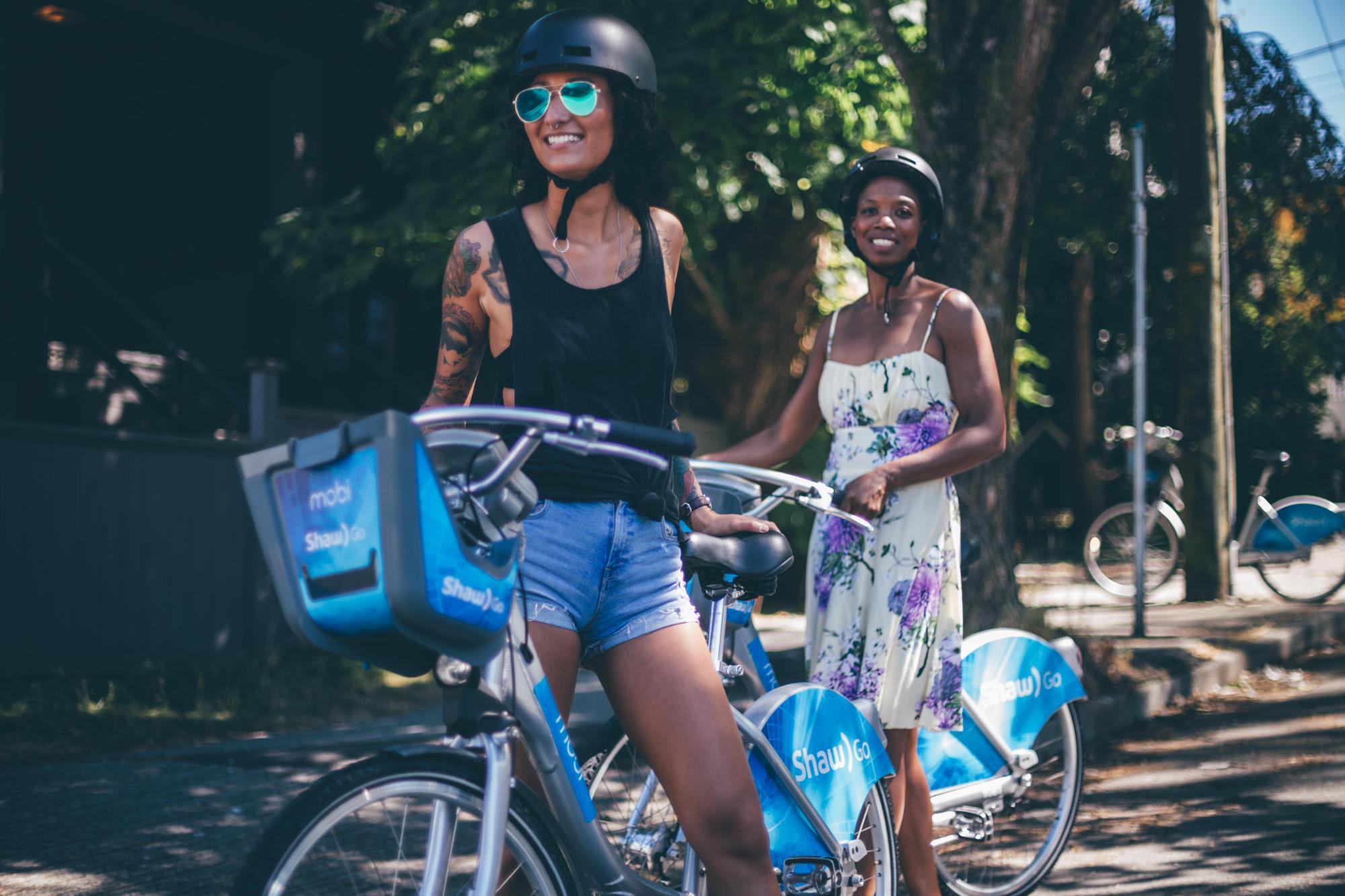 Nearly two years ago we embarked on a journey to create a more dynamic and connected Vancouver by providing easy access to bikes throughout the city. Now, our first expansion is underway and taking us further into the neighbourhood of Mount Pleasant. Vibrant shops, restaurants, cafés and parks are plentiful here and we couldn't be more excited to be adding bike share to the mix.

So grab your bike share bestie, hop on a Mobi by Shaw Go, and go explore the almost dizzying amount of cafes and breweries found in this historic neighbourhood. Not sure where to begin? We've made a few suggestions below and indicated the nearst Mobi by Shaw Go station to that stop. You can use our mobile app or online map to locate all Mobi by Shaw Go stations and avaialble bikes in Mount Pleasant.
What to Visit/See 
Being primarily a residential area, a lot of Mount Pleasant's appeal involves hanging out with the locals in a brewery and strolling the neighbourhood's beautiful homes with a coffee and baked good from a local cafe. But there are a few spots definitely worth checking out.
Western Front
: The Western Front is an artist-run centre located that was founded in 1973 by eight artists who wanted to create a space for the exploration and creation of new art forms.
(Docking Station: 8th & Scotia)
Vancouver City Hall
: Consider yourself an architecture buff? This is an art deco gem! Visitors can view the lobby, stairwells, elevator, and third floor council chambers Monday to Friday. Be sure to check out the old photos of Vancouver that line the walls.
(Docking Station: 12th & Yukon)
Art Galleries: If you enjoy browsing art it's worth exploring the art galleries around Industrial Ave and 1st Ave. Dock your bike and poke your head inside to see art by local and international artists on display. 
(Docking Station: 1st & Main)
Vancouver Murals
: You'll find murals galore in Mount Pleasannt. These larger than life paintings are around every corner and a real treat to look at. Start by exploring the alleyways around the 8th and Quebec intersection.
(Docking Station: 8th & Ontario)
Where to Eat/Drink
Every neighbourhood has it's hidden gems, and Mount PLeasant is no exception. You'll find a litter of interesting independent restaurants here. Whether you're craving classic comfort or ethnically diverse food, there's a restaurant to satisfy your tastes.
Cartems Donuts
: Satisfy that sweet tooth craving with a donut. Their ingredients are fresh, their flavours make your mouth water, and their donuts are never ever frozen. Vegan and gluten friendly options as well!
(Docking Station: 6th & Main)
Dock Lunch
: A charming, Southern-inspired take-out window and cafe. Specializing in a rotating menu of comfort cooking the world over.
(Docking Station: 10th & Ontario)
The Federal Store
: A little luncheonette and grocer nestled away in Mount Pleasant providing great food, great coffee, and a friendly atmosphere.
(Docking Station: 10th & Ontario)
Uncle Abes
: With it's weird 70's decor, couches instead of chairs, and really friendly staff, this is a fantastic place to stop for a drink - especially during happy hour. If you're hungry you can bring food in from the Mediterranean next door.
(Docking Station: 14th & Main)
R&B Ale and Pizza House
: This inviting, unpretentious, and fun space is one of Vancouver's original microbreweries and arguably has one of the best tasting rooms in the city.
(Docking Station: Ontario & 5th)
Swiss Bakery
: Since 1993, Swiss Bakery has provided Vancouver with a variety of delectable goods. Stop in for lunch or just a quick snack. Their traditional German pretzel is a must!
(Docking Station: 3rd & Quebec)
Earnest Ice Cream
: Small batch ice cream that focuses on local, seasonal ingredients and creative flavours. Always creamy and the flavours taste exactly like they're supposed to.
(Docking Station: 3rd & Quebec)
Where to Shop
Voted by locals as being home to Vancouver's "coolest street" and with over 400 eclectic shops Mount Pleasant is a great spot to spend your dollars locally.
Turnabout
: In the heart of the eclectic hip Mount Pleasant neighbourhood, their Main Street location is big, busy and beautiful. With a colourful & diverse selection of popular & designer clothing & accessories for men and women.
(Docking Station: 14th & Main)
The Rag Machine
: Offering high quality recycled clothing to the public at a fraction of the cost of most thrift shops. The price you pay depends on the weight. Just try leaving without adding a couple items to your wardrobe.
(Docking Station: 8th & Scotia)
Mount Pleasant Farmers Market
: On Sundays from 10am - 2pm between May 27, 2018 - Oct 7, 2018 you'll find 30+ farms and producers, food and coffee trucks at Dude Chilling Park.
(Docking Station: St George & Broadway)