Member Spotlight with Aleem and Victor!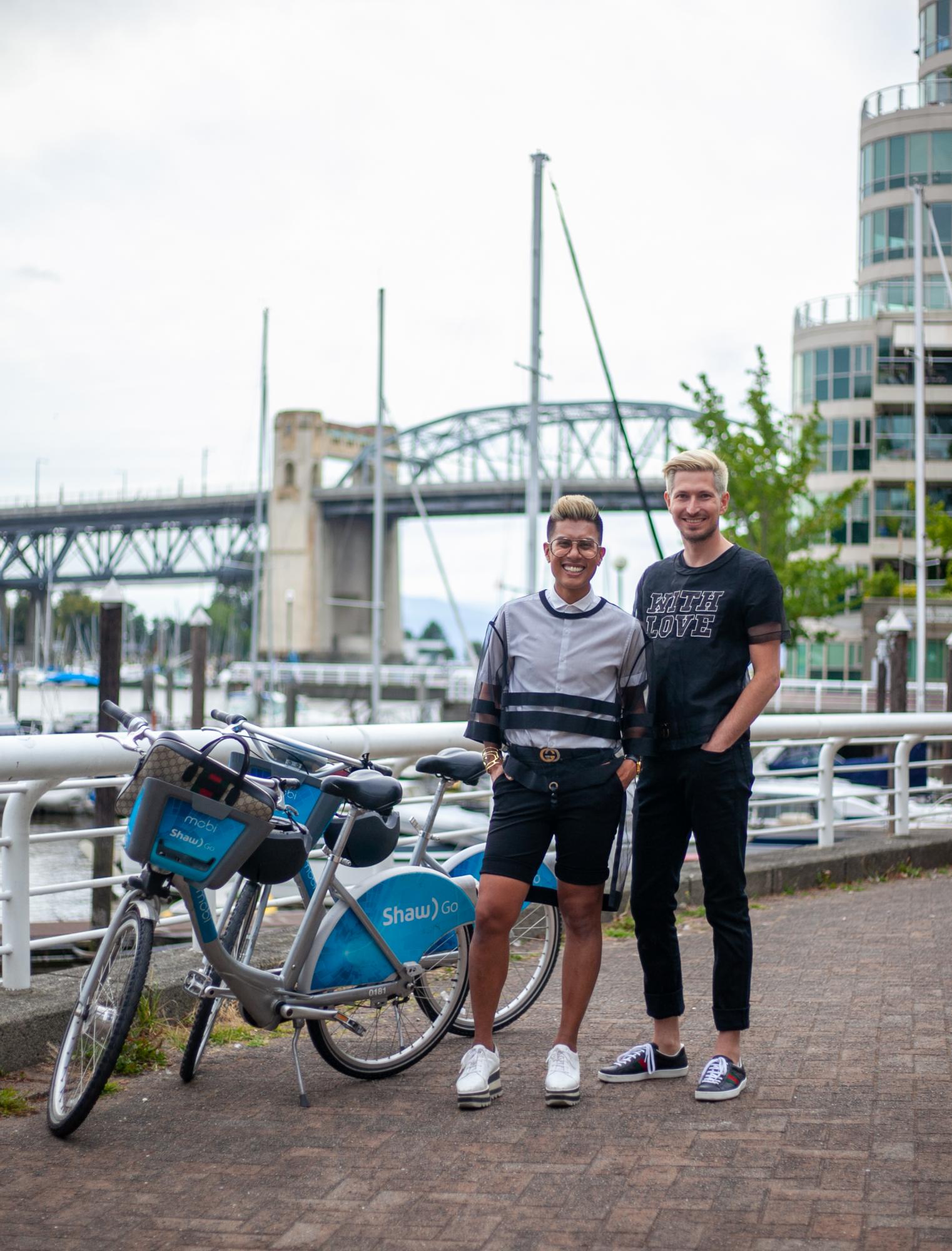 We're back for our most fabulous Member Spotlight yet! Recount hilarious stories, great fashion advice and secretive tips from two of our founding members  We chatted with partners Aleem and Victor, who shared some of their favourite experiences and stories from their times riding with Mobi by Shaw Go.

Can you tell us a bit about yourselves?

I'm an Interior Designer, and started my Interior Design Firm w/ my business partner almost 15 years ago called Kalu Interiors. I'm born and raised in Deep Cove, of immigrant parents from the Philippines and Tanzania, and while completing my initial post-secondary education in Vancouver, I spent most of my adult life abroad in London, Milan and then Chicago to complete my design studies while also working in the industry. Now back in Vancouver as of about 8 years ago, shortly thereafter I also met my current partner Victor, and we've continued to grow our personal and professional lives in Vancouver ever since! 

Victor is a Software Engineer, and has worked in the Technology and Software divisions for over a decade. Primarily working for large tech start-ups, he's built his career both from a software and management perspective.  Originally from Bulgaria, Victor and his family made their way to Ontario, and finally ending-up in Vancouver.  (Luckily for me!)  An alumni of SFU, and definitely a VanCity boy at heart now, I would overall describe him as brilliant... and the left-side of the brain in the relationship.  Clearly, I'm the right-side!  Together, we're whole. (Cue the sappy love song!)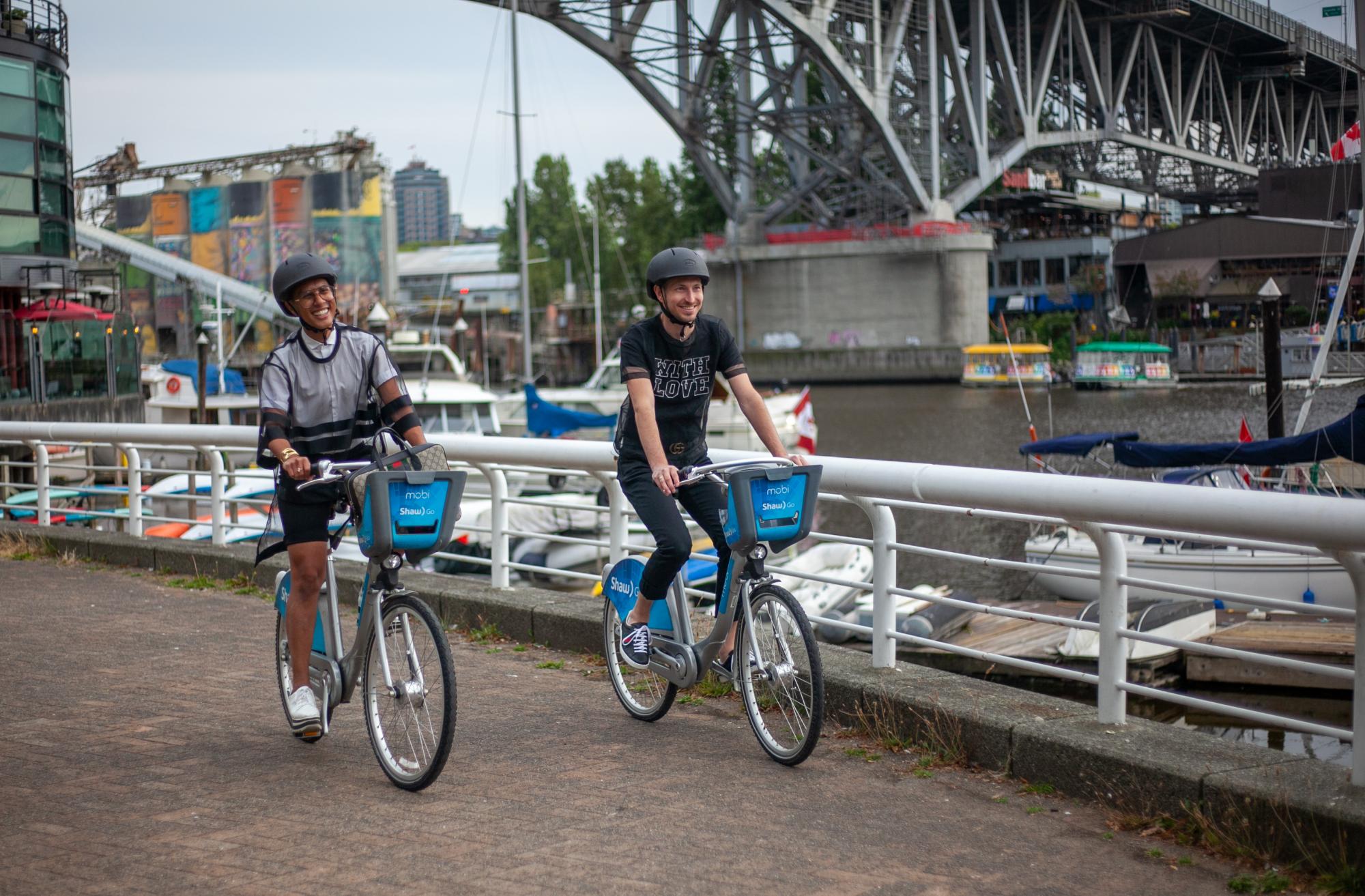 How did you get started with Mobi by Shaw Go?

Living abroad in Europe and the United States, it was very common to see and use shared bike programs, so when I came back to Vancouver, and a few years ago found out from Victor that Mobi by Shaw Go was being introduced, we immediately jumped on the bandwagon. (Or shall I say bike!) We became early adopters and thus knighted "Mobi Founders," which is a hat we wear proudly! We've been putting rubber to the pedals ever since, and living in a few areas of Vancouver such as the West End, Yaletown, and Gastown, we're never far from a station, and it's become our favourite mode of transportation on the weekends!

By no means do we claim to be role models of living absolutely "Green," we do however care greatly for the environment and incorporate what we can into our lives to live a more environmentally-sound lifestyle. From our 4-wheels: an electric-hybrid, to our 2-wheels: Mobi by Shaw Go Bikes, we're doing our best to leave a "greener" footprint wherever we travel during the week or on the weekends!

How do you integrate Mobi by Shaw Go into your daily/weekly routine?

I primarily drive during the week due to the nature of my business, and having to conduct client and site meetings all around the Greater Vancouver Area, but Victor has always worked downtown. And walking OR biking is his primary mode of weekly transportation. Especially when he's in a rush to a meeting at the office, I see him run to a Mobi by Shaw Go Station and speed-off (SAFELY!) to his office!

When the weekends hit, typically (weather-permitting) it's MOBI BY SHAW GO-TIME for us! We love to explore all the vast corners of Vancouver on the weekends exploring new neighbourhoods, chill along the seawall, or travel to new cafes or restaurants, or even to the beach... that's where Mobi by Shaw Go comes into play! Typically right outside our doorstep or just a block away, (We've lived in a few areas over the years), Mobi by Shaw Go is never far away, and takes us to our next destination, or better-yet, on our next journey (NO destination determined).  Wherever we choose to stop, or go, we can simply pop the bikes back into the nearest station!

That's a major part of the reason we've never purchased our own bikes over these past few years. The convenience of being able to safely take and park the bikes in and around the city is the ultimate convenience! While not taking a square-inch of our home, which is the most valuable real-estate in this city!


What kind of impact has Mobi by Shaw had in your life?
            
For both Victor and I, we've tried to make an exerted effort to be active as much as we can in our lives. During the week can certainly be a challenge for the both of us, as we work in quite intense industries that require long hours from us, and typically have quite hectic days, so the weekends are our time to play, be active, and explore!

Personally, I had an injury a few years ago, and biking was a great way to get up and about! Though difficult for long periods of time seated, Mobi by Shaw Go has allowed us accessibility, and the ease to get on and off when I need!

For us as a couple, it's also allowed us to bond over a really enjoyable and healthy activity, while also getting to have some fun too... meaning stopping for a few cocktails along the way, SOMETIMES!


What is your favourite part about using Mobi by Shaw Go?

There's many, of course we're biased, but I think users of Mobi by Shaw Go would agree with us that they're true! Having accessibility all over the city, while not having to purchase or store your own bike, cheaper than renting one from a rental location, while also being able to park them wherever you end up!

They're also the perfect hybrid bike for city biking, in a multitude of conditions, and offer very comfortable biking! OH YES< also just being able to scan your card, or plug in your code, it couldn't be easier! No fussy locks, they're literally grab and go! The time we've saved having to lug-up a bike up and down stairs or an elevator, or two and from a bike storage, and then the hassle of having to remember codes or bringing keys and pumping tires... and just general maintenance of being a bike owner! Mobi by Shaw Go takes all of that hassle and worry away! Especially in Vancouver with prevalent bike-theft, taking a Mobi by Shaw Go removes that sweat and worry from your head!

There's never anything worse then going into a restaurant, friends home or movie, and constantly worrying if your bike will still be there when you get out, and with Mobi, IT WILL BE!  No doubt about it.  Reassurance.  Reliability.  Need I say more?

Where are some of your favourite places to ride Mobi by Shaw Go to? (alone or together)

Together, ALWAYS, haha (Well except for when Victor is hopping on a Mobi by Shaw Go to work), the seawall never fails us. We usually opt the direction towards UBC versus Stanley Park. We like that portion of the seawall as it's a little less busy, and a LOT of options to stop at along the way for a bite, drink, or shop, and then ending with a beach! And there's a few options at the end of that day, which could be anywhere from Kits to Spanish Banks!

More recently we've been biking from Downtown to Spanish Banks, and making a few stops along the way, and that makes the perfect Sunday for us! Usually arriving to Spanish Banks just before sunset, and biking back downtown for dinner. The perfect end to a weekend, and the even more perfect start to our week!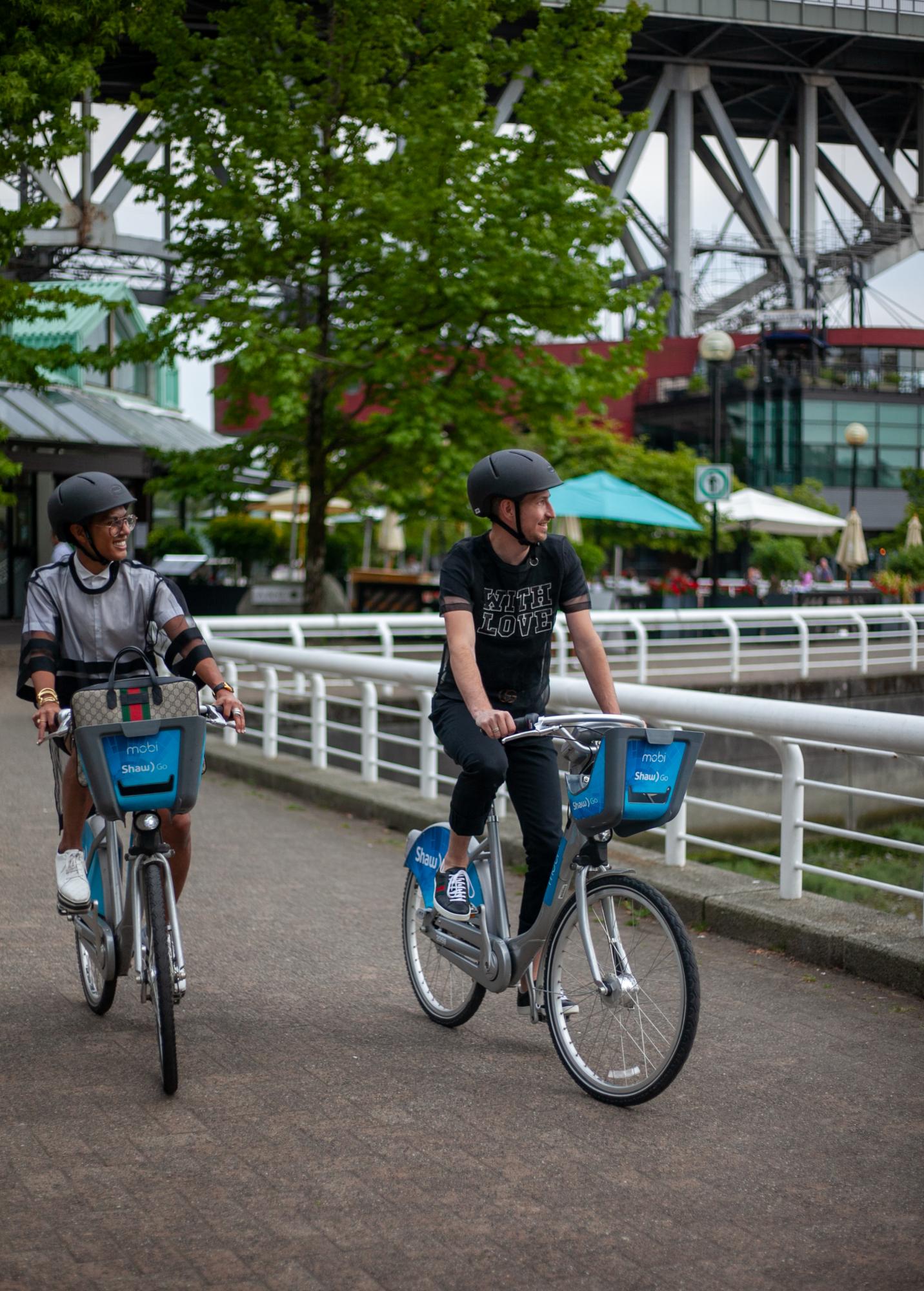 Do you have any words of advice or tips for people new to Mobi by Shaw Go or riding a bike in general?

IF we shared our tricks, we'd have no secrets! Just kidding! Mobi by Shaw Go is great about servicing the bicycles, but there's no way that each and every bicycle can be attended to after every user, every day. SO, we recommend doing a quick inspection of the bike of choice, check the tires, and the gears, and you're good to go! There's nothing worse than not paying attention to the condition of the bicycle, unlocking it, and then having to lock it back, and find another. Take the extra minute upfront to make the right choice, and be on your way!

Also, Mobi has a great mobile  app where you can not only locate the closest station, but also the number of bikes at it. Take the extra moment before heading-out to preview the desired station and ensure there's ample bikes at it. We've encountered a few times where we arrived at a station and all of the bikes were out + rented! And had to go the opposite direction. So taking a quick second to check upfront, can save you several minutes afterwards having to find another station.

ALSO, vice versa, when returning a bike, quickly double check on the app the station you're heading to, and ensure that it's not full, so there's room for you to return! That extra quick stop + look on the app before arriving at your destination can save you from having to bike to a completely different location!

Is there anything else you would like to add? Do you have a funny story? Bicycle fashion tips? Embarrassing moment? Or any other final words?

SO MANY!  But not enough space... haha.  Firstly, if anyone knows me, or looks at my Instagram (Which I do for myself AND Victor since his is BLANK!), I'm a self-proclaimed Fashionista!  (Though, I was named Top 10 Best-Dressed in Canada by the Globe & Mail) ahem!  SO for fashion, be comfortable, but don't be afraid to be FABULOUS!  We're City Biking, not Mountain Biking, or Road Biking to Squamish, so why not dress-up a little and get some high-fives on your Mob by Shaw Goi!  Well, maybe not high-fives right now, so how about a "You look Fab!" as you pass by! 

With Vancouver always being deemed as Lulu-City, we're doing our part to grace the streets and seawall on our Mobis, FASHIONABLY!  And of course warranting a few photoshoots along the way for my IG Stories!  We always love to theme or pair our outfits according to colour, or pattern, or style!  Some days you may see us scooting by in a total Varsity Prep look head to toe in Ralph or Burberry, and another more Rock with some Leather and Denim Gucci looks. 

And in the way of something funny to wrap this up, I have one for you... but please laugh with me, and not at me!  I was feeling courageous one sunny Vancouver day, and opted for shorter and tighter shorts than I normally would sport, but I was feeling extra adventurous!  To my horror, after biking almost the entire seawall that day, Victor (only at the end of our entire few hour ride) noticed I had a gaping tear in the back of them!!!  HE claims he "only" just saw it then, but I still suspect to this day he allowed me to grace the eyes of innocent bystanders for his guilty pleasure the entire ride!  There you have it folks.  Do what you will with that, as I continue to pray no one I know saw me that day.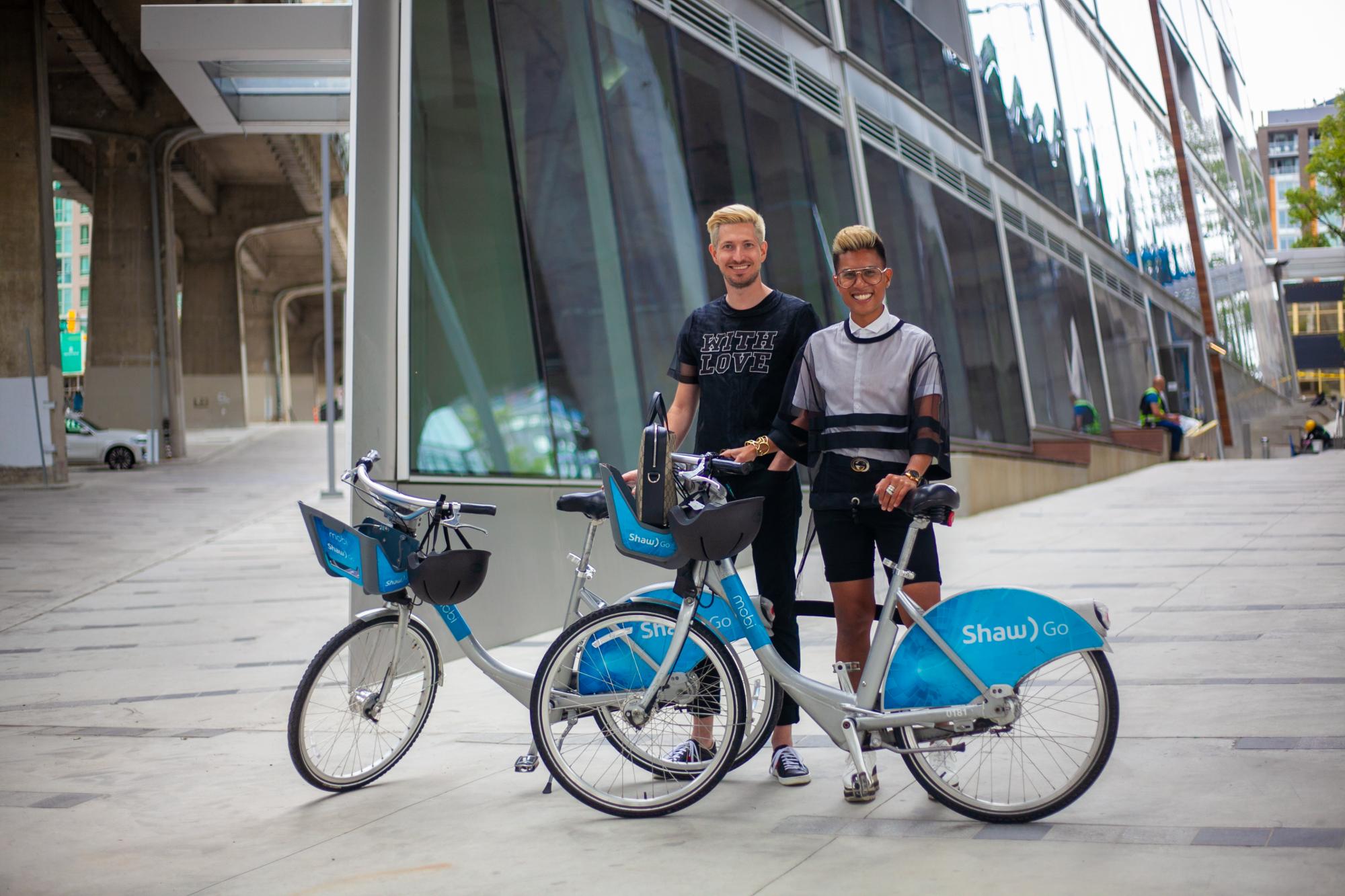 A big thank you to Aleem and Victor for coming out and sharing their experiences with Mobi by Shaw Go!