Member Spotlight: Lesley Parris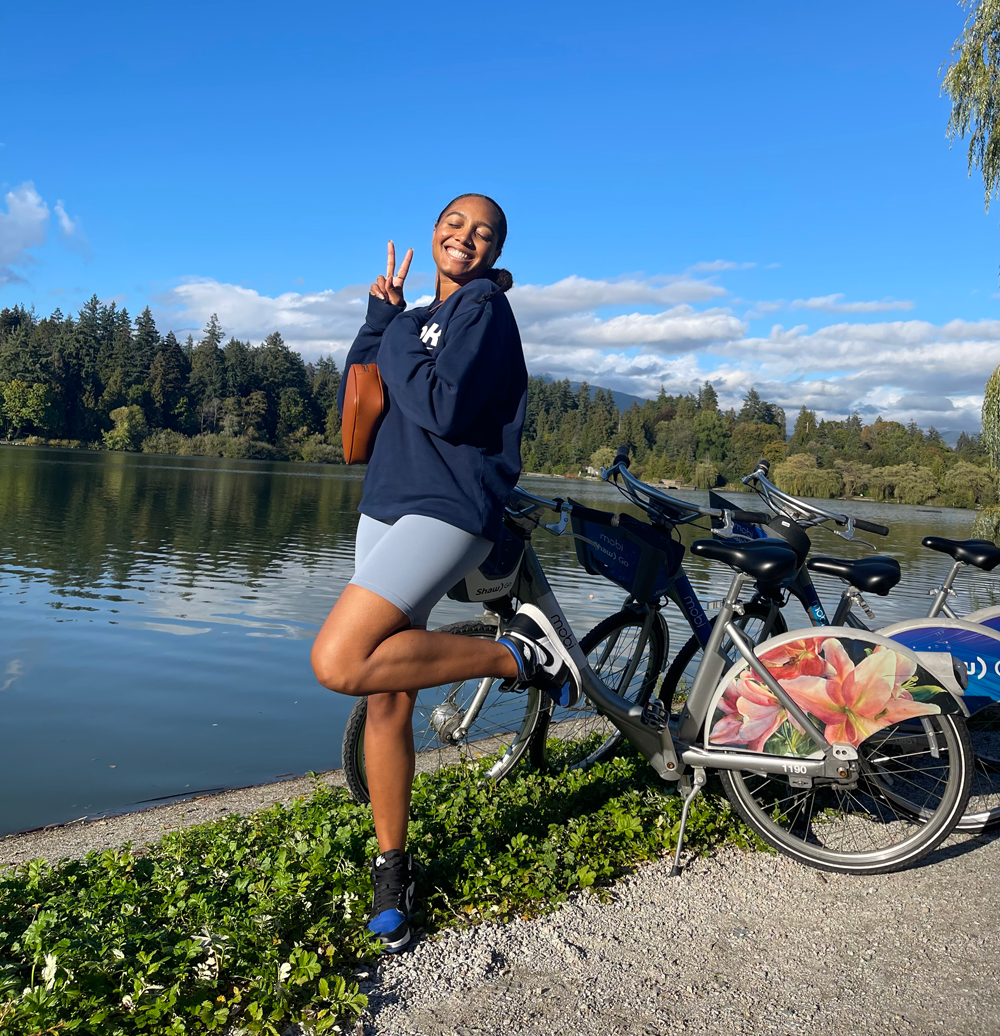 We introduce to you, Lesley Parris, a content creator & wellness advocate and entrepreneur. She absolutely loves being in the ocean and feeling the wind blow through her curls biking along the seawall after a long day of WFH in tech full-time. She is the founder of Empathy + Me, a social enterprise focused on helping people heal from trauma through storytelling, community and wellness products.  As a survivor herself - who still lives with depression and anxiety - she knows the importance of prioritizing healing - introspection, meditation and joy - and that's what she hopes Empathy + me and her lifestyle encourage others to do too.

How did you get started with Mobi by Shaw Go?
When moving to Vancouver, my partner and I drove across Canada with his car, and we left mine back in Toronto. In doing that, I felt like I lost a lot of my freedom, independence and it was a really tough transition at first - until I looked into Mobi Bikes. My partner bought a bike within the first few weeks of moving, however I wasn't ready to commit to that and had heard many stories about bike theft. I also wasn't comfortable with the idea of using the transit system yet so I got a monthly membership with Mobi by Shaw Go.  
Getting a membership was literally the best thing I could've done for myself when first settling in here and I still stand by that today. I am able to explore the city without having to worry about locking up a personal bike, there's always a bike available at the stations near my home and wherever I'm heading to, and it's just the easiest way for me to commute around the city. I'm a lot more comfortable taking transit now, however if I had the option I'd much rather bike around for the fresh air!
As a wellness advocate, how do you integrate Mobi by Shaw Go into your wellness routine?
One of the things I share with people is the importance of having a solid morning routine and a wellness toolkit that you can use when you need support on those tough days. For me, biking is key for both of those. I've had a pretty solid morning routine since 2020, and being able to add in a quick 15-20 min bike around the area in the morning before work helps me make sure I'm dedicating time for myself before being drained by the end of the day. There's also a huge sense of freedom I get when I'm biking, and on those tougher days it's key for me to get out for a ride. If I'm not able to ride in the morning, I'll make sure to when I'm done work so I don't end up dissociating on the couch for hours. Healing is a journey and I won't always feel my best, so knowing I have the option to go for a bike ride available to me is really beneficial.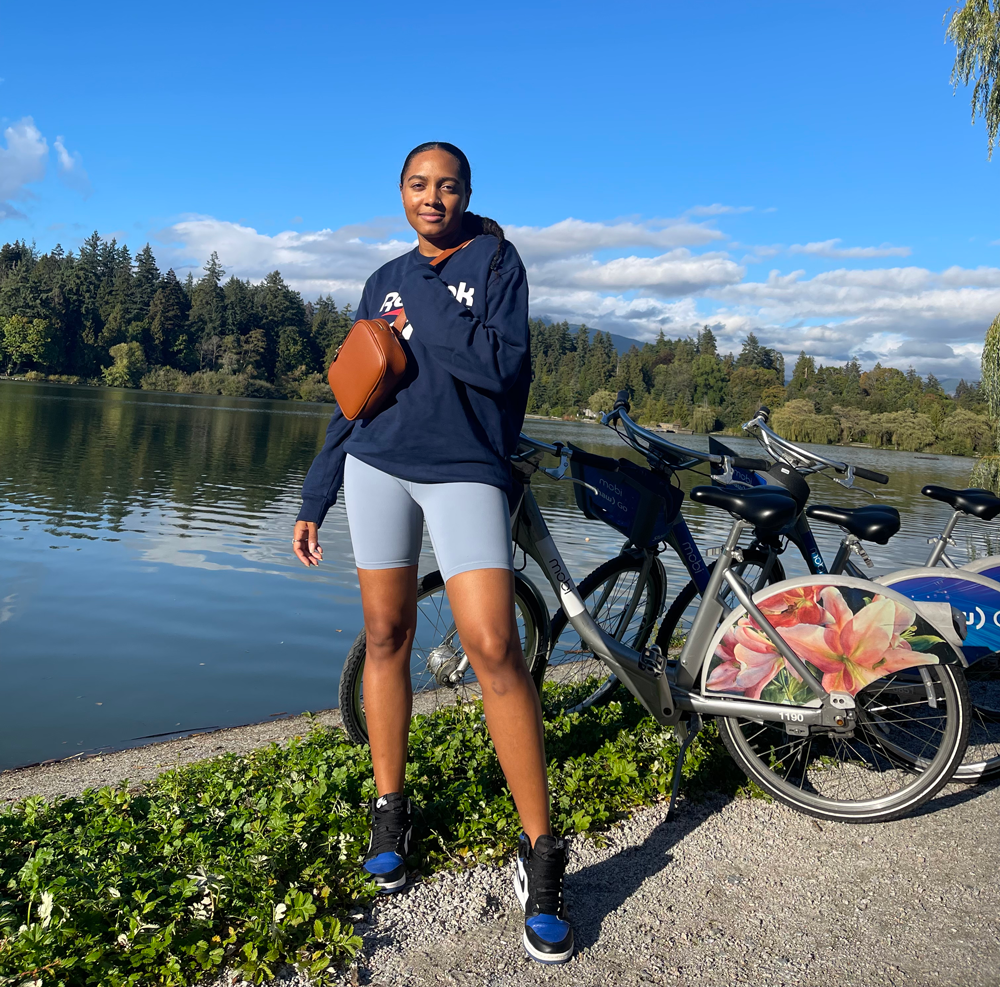 We love seeing your bike share experiences on social media! Can you share what some of your favourite experiences with bike share have been like?
Almost all of my favourite experiences have been biking on the seawall around Stanley Park. We've had a lot of family and friends come stay with us the first year we moved, and taking them out for a ride was my partner and I's favourite thing to do. We would all get a Mobi bike, ride over to Canada Place and loop around to Sunset Beach. They'd be in awe at all of the sights especially of North West Van and the mountains - I still can't get over the beauty of them and probably won't ever! (My best friend had added that she loves how accessible the bikes and all the stations are as well.)
Another really great memory is in the summer (before I got my paddle board), I would bike over to Kits Beach after work chill out on the beach, swim a bit and my partner would bike over after he finished work to meet me. We're always super busy now, but quality time with him almost always included biking somewhere (Third Beach on a Tuesday too) those moments will always be my favourite and fill me with immense gratitude. Being able to bike back home together along the seawall or over the Burrard Bridge, while the sun sets is always so much fun and feels like a dream!
Any messages you would like to pass on to those thinking about getting a Mobi by Shaw Go membership?
If you're new to the city, get a membership ASAP - especially if you live downtown. It'll give you an opportunity to learn the bike lanes, and get comfortable biking in a city (if that is something the scares you). Whether you're commuting, exploring the city, going for a casual ride, or need time to decompress, a membership is perfect for you. It's super affordable so, I didn't even think twice about signing up for mine!
Anything else you would like to share?
Please, be smart when you're riding - be extra observant of the pedestrians, drivers and other bikers around you. If you're out for a casual ride, be considerate of the other bikers that may be out for a session or trying to get to work. Lastly, I feel like a decent amount of people have a fear of biking around cities, especially downtown, and I just wanted to add that it gets easier and more comfortable the more you do it. You've got to lean more into the benefit that doing it is adding to your life and you'll slowly overcome that fear.