Member Spotlight: Women's History & Gender Equality Month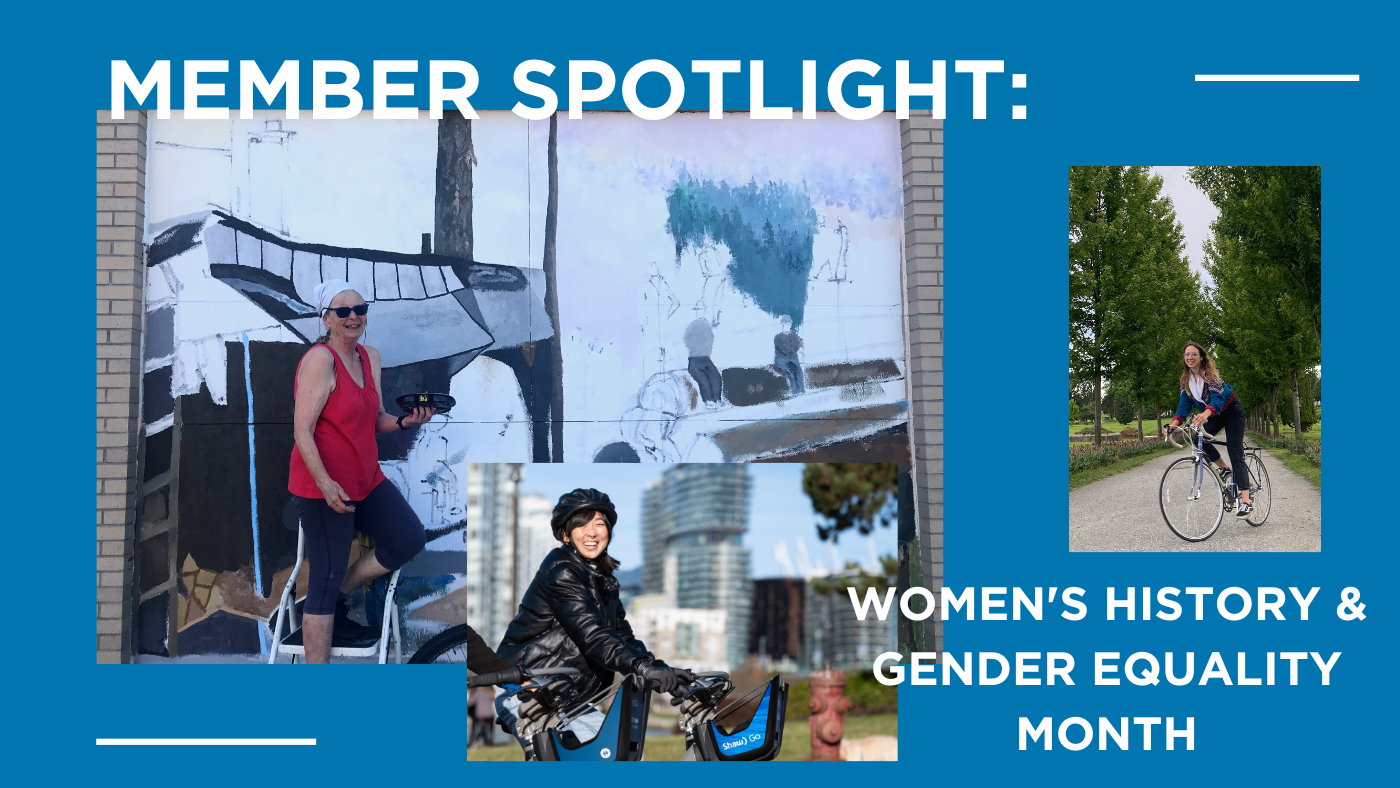 Mobi, along with the cycling industry at large, is still working to address the gender disparity within its ridership. With around 40% of Mobi's riders identifying as women in 2022, the gender gap is getting smaller but there's still work to do. That being said, a new area that we're celebrating within cycling are gender diverse people! Mobi has a small percentage of riders who are two-spirit, non-binary, agender, or gender non-conforming. What better way to celebrate the increasing gender diversity within cycling than by introducing you to a few of our women and gender-diverse riders!

Meet Deborah! (She/Her)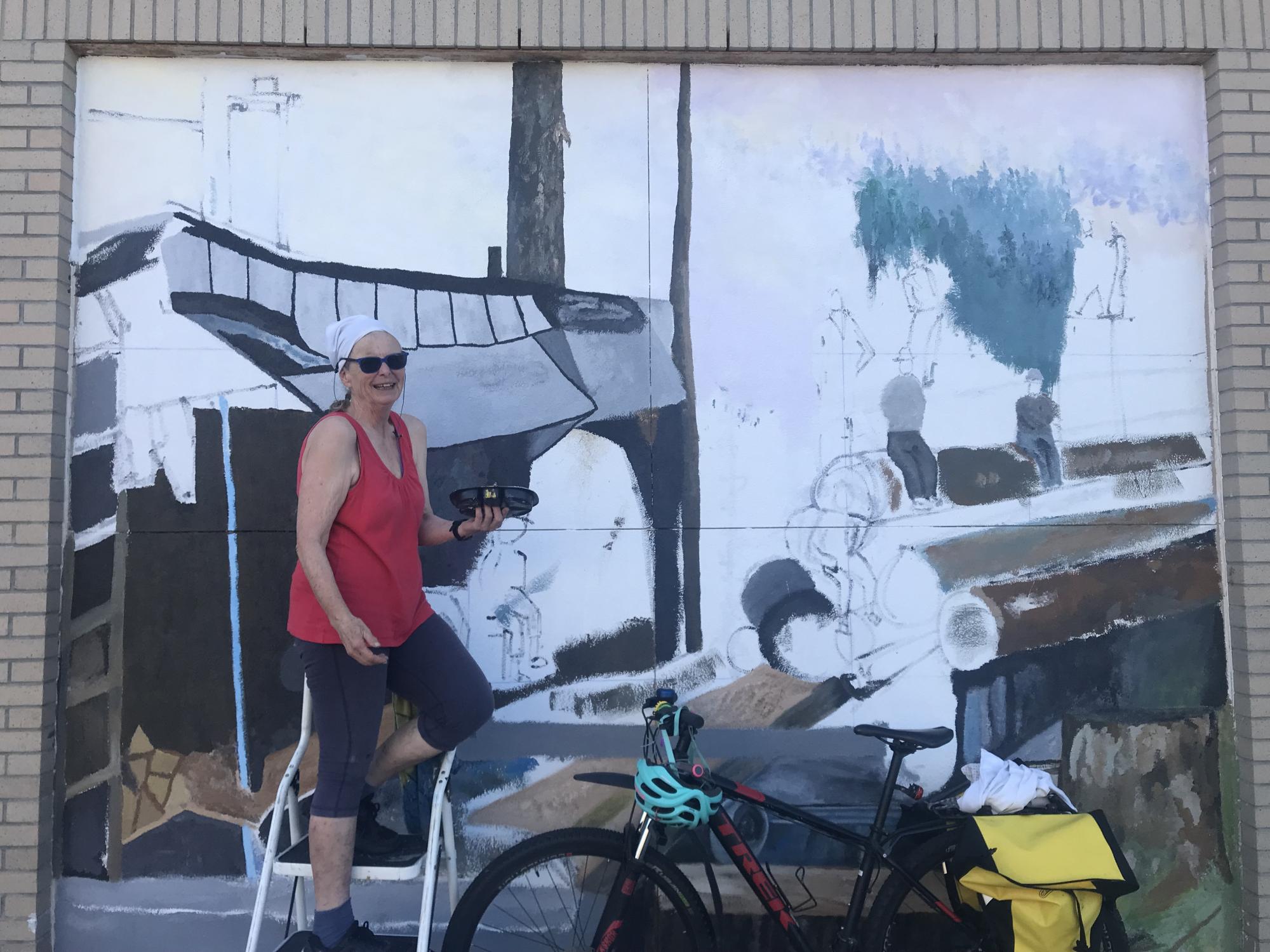 ​
Tell us a bit about yourself! 
I didn't get my first two-wheeler until 1965 when we moved to the suburbs. At Etobicoke C.I., in 1967 mine was the only bike on the campus. The next year, the 10-speed fad exploded. It was GREAT to have others interested in riding downtown or up to Boyd Conversation area. Since then, I have ridden in many countries and never stop appreciating the freedom and joy cycling provides.


How did you get started with Mobi by Shaw Go?
I started with Mobi by Shaw Go for running routine routes to Yoga, shopping, the library and other short errands. I choose Mobi because I want to keep my own bike safe from theft and damage when I need to go places where it will be locked up and out of my sight for long periods of time. 


How do you integrate Mobi by Shaw Go into your life?
The service is indispensable to my city life now! The responsiveness of the Mobi service reps to any of my alerts to mechanical troubles, lack of bikes, being unable to dock or unlock a bike have always been handled pleasantly.


When you don't feel like riding a bike how do you encourage yourself to do so?
It is VERY easy to motivate myself to use a Mobi bike. It is cheaper and faster to ride downtown or back than to take the bus.


Favourite place to ride and why? 
I love to ride along either side of False Creek inlet. It is out of traffic and there are lovely views. The Vancouver Aquatic Center is a frequent destination as is the Aquarium. 


Any messages you would like to pass on to those thinking about getting a Mobi by Shaw Go membership?
Get a membership. Encourage power to the people. Do it for your health, the environment and most importantly yourself!



Meet Taylor! (They/She)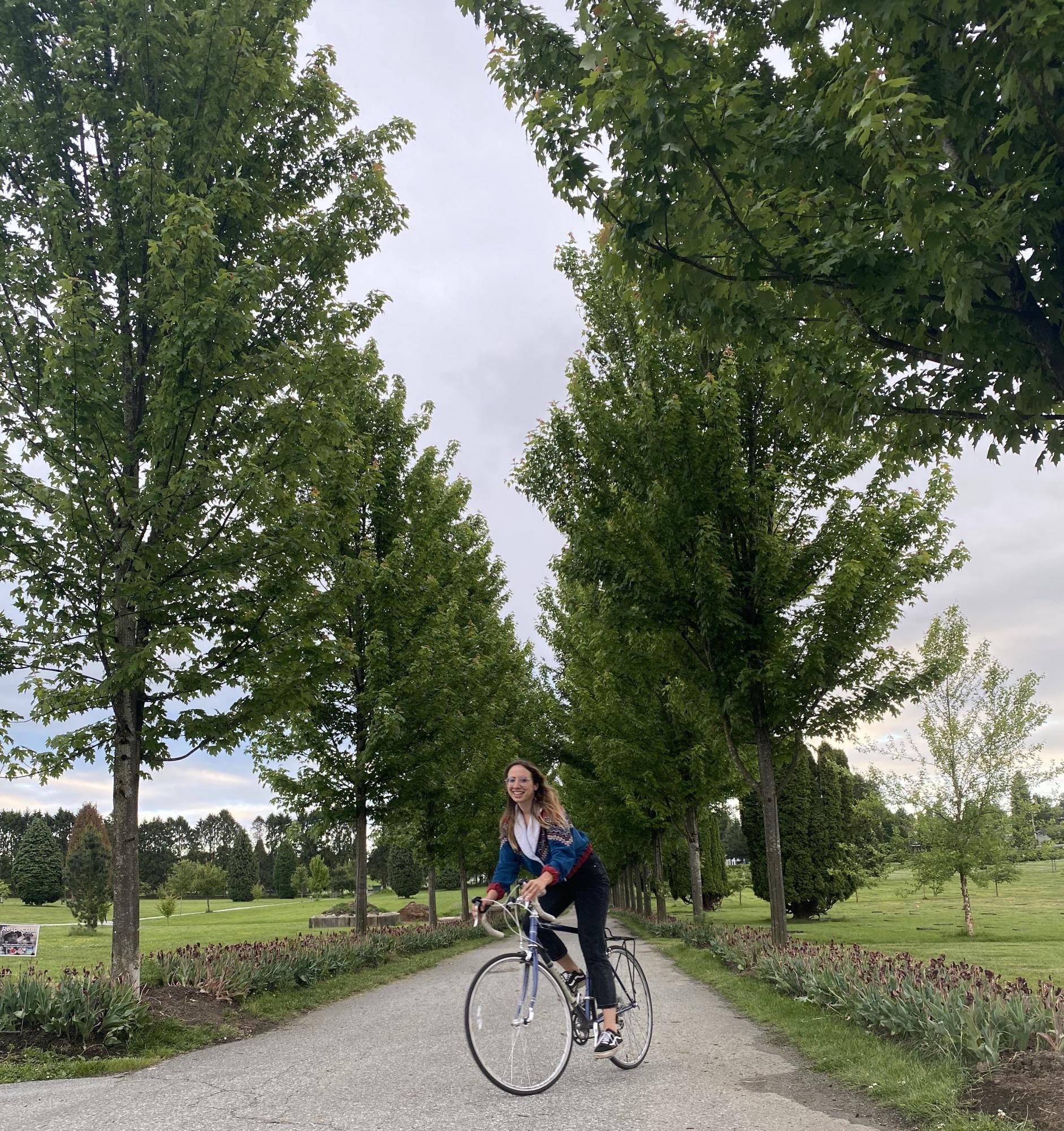 Tell us a bit about yourself! 
I'm a non-binary queer settler who grew up in Mount Pleasant, Vancouver and started cycling when I was quite young. I didn't start biking more regularly until I started to commute by bike in university. At the time, I mostly rode beat up old commuters or hybrid bikes and I think how heavy my bikes were held me back from truly loving it. It wasn't until I got my first road bike, the one I still have today, in my early twenties that I really started exploring cycling as a hobby and fell absolutely in love. My favourite form of cycling is bike camping. I LOVE the feeling of powering a multi-day journey almost entirely yourself. In the years since, I've become super passionate about equity within cycling and will talk anyone's ear off about why cycling, for those to whom it's accessible, is the best way to get around!!


How did you get started with Mobi by Shaw Go?
I had used Mobi every so often when I worked downtown but I really got started with Mobi when I began running some of their programs. I've been interested in how to better support underserved communities within cycling for a few and when an opportunity to oversee the equity program opened up at Mobi it was the perfect fit. I truly believe that bike share helps create healthier, happier, more environmentally-friendly, and accessible cities.


How do you integrate Mobi by Shaw Go into your life?
With the introduction of ebikes, I'm able to to bike more easily in the winter. With the Mobi bikes having slightly larger tires and more grip, I often opt for an ebike on icy or somewhat snowy days as it helps me feel more confident on the roads than if I were to cycle in those conditions on my road bike.


When you don't feel like riding a bike how do you encourage yourself to do so?
I really love being able to take an ebike after I go to the gym and have to bike from the seawall all the way to 30th up Ontario – it saves my legs and what's left of my energy. I also often remind myself that even if it's cold or dark or rainy and it seems like it won't be a fun ride, I'm always glad at the end of the ride that I chose to bike. There are very few things in life that give me the joy, freedom, and flexibility that cycling does – plus it saves me a lot of money.


Favourite place to ride and why? (Park, neighbourhood, friend's house, etc).
Flying down the Stanley Park loop hill, cycling along 10th avenue at night where all the houses have pretty lights on them, and cycling along Wall St at night as you pass all the little hidden parks with view of the water and across to North Van.


Any messages you would like to pass on to those thinking about getting a Mobi by Shaw Go membership?
Even if you have a personal bike, Mobi is way more useful than you'd think. Want to bike to a night out but not bike home later? Take a Mobi one way and you don't have to worry about where you're leaving your bike. Something breaks on your bike and you don't have the time or funds to fix it right now? Take a Mobi for a while. Also, if you're worried that you may not be able to afford it, we do have a more affordable Community Pass for folks who are low-income.


Meet Addy! (She/Her)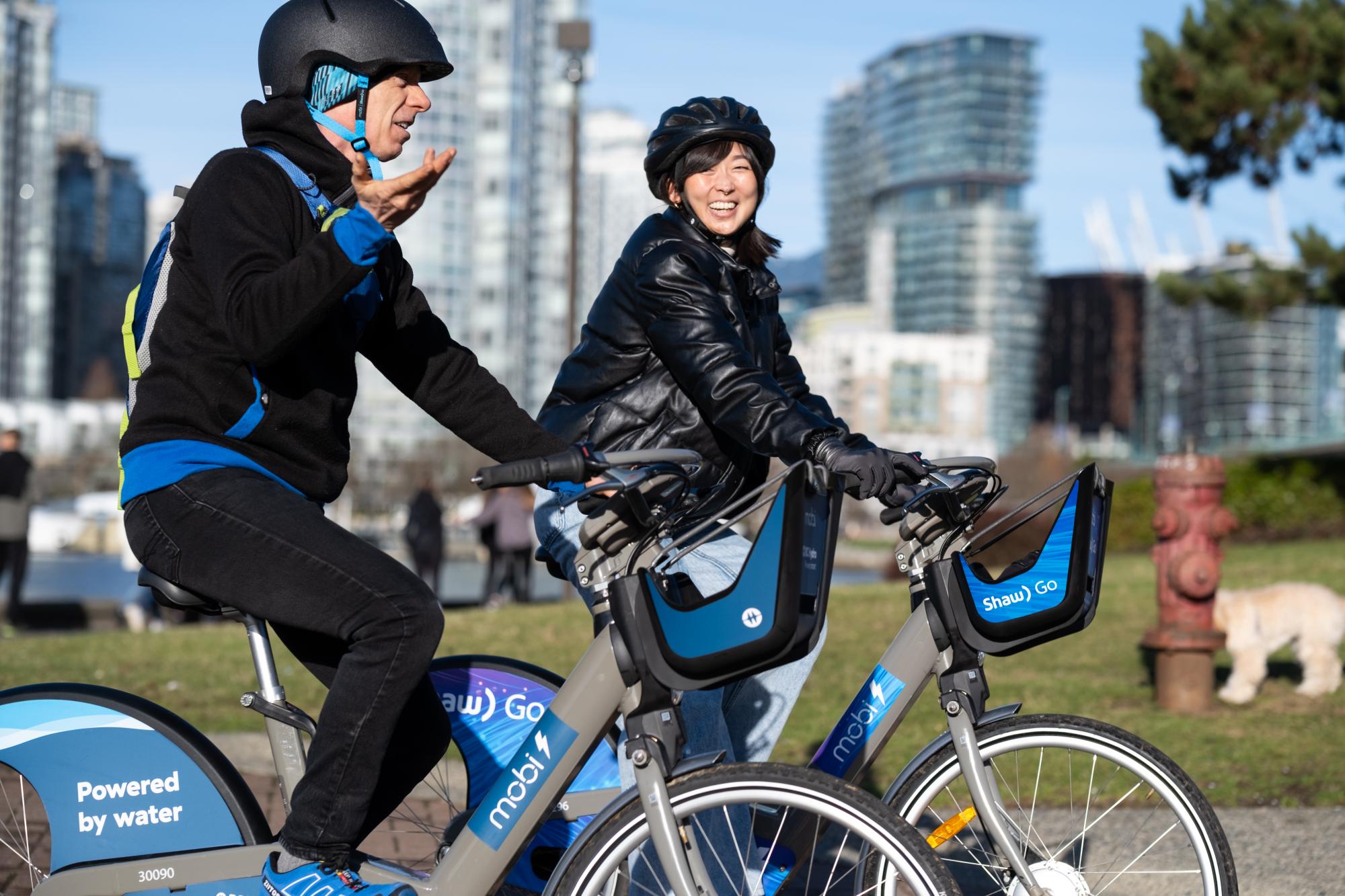 Tell us a bit about yourself!
I'm a Korean Canadian working for Mobi as the Events and Engagement Coordinator. You may see my face pop up on our social media, zipping around on an ebike from time to time! I was born and raised in Vancouver, moved to South Korea when I was ten and came back to Canada after living there for five years. I've stayed in Vancouver ever since!

I'm passionate about arts and culture, but most of all I love connecting with people in my spare time - whether that be over a coffee, going to a show, or just hanging out in general. I find so much interest in getting to know people and their stories, hence my passion for events and creating opportunities for folks to connect with each other. Working for Mobi has been amazing in a sense where, not only do I get to coordinate our participation in large scale events where people come together, we also provide a mode of transportation to get people and communities connected with the urban landscape.

 
How did you get started with Mobi by Shaw Go?
Believe it or not, I haven't tried bike share until I started working for Mobi. I was fully aware of the bike share concept as well as the company as I saw stations scattered all across the city, but never jumped on giving it a try. The moment I got set-up I was pleasantly surprised by how convenient and easy it was getting to and from places - I couldn't believe I didn't sign up for the program sooner!


How do you integrate Mobi by Shaw Go into your life?
I hop on a Mobi for my daily commute to and from work, especially on days when I need to grab groceries on my way back home (gotta love those baskets!). Mobi has been amazing for days when I go out for a social outing and need a quick and easy way to get back home. If you're always on the go like me, Mobi is a great way to get to places. I'll always find a station wherever I need to go!


When you don't feel like riding a bike how do you encourage yourself to do so?
As with any other day when I don't feel like working out or going for a walk, I just imagine the boost of endorphins I'll experience afterwards. Motivation can be hard to find, especially during the darker and colder days, but I try to focus on the physical benefits I'll reap after a nice bike ride.


Favourite place to ride and why? (Park, neighbourhood, friend's house, etc).
I think this is a popular one, but I love riding along the Seawall. I have a lot of fond memories of spontaneous Mobi bike rides along that route (especially during the summer), and the scenery is always breathtaking. The route is connected to parks, beaches, shops and cafes along the way which make it that much better!


Any messages you would like to pass on to those thinking about getting a Mobi by Shaw Go membership?
Just try it! Even if you have a personal bike, or even if you don't know how to ride a bike, I suggest that you give it a shot. A lot of our members (myself included) already own a personal bike but still choose to use the service because we don't have to worry about parking our bikes or worry about bike theft (which unfortunately is quite common in the city - I've gotten my bike saddle stolen once!). As for those who don't know how to ride a bicycle, there are tons of resources and free courses on how to ride a bike. HUB Cycling is a great non-profit organisation that offers free education to all ages!