How Mobi by Shaw Go is Helping to Make Vancouver's Climate Emergency Action Plan Equitable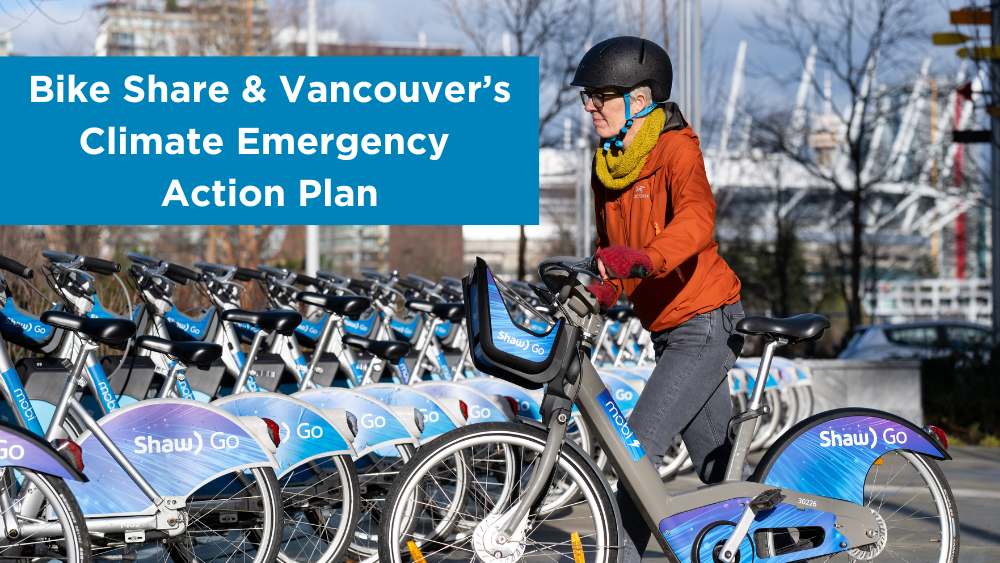 On November 17, 2020, Council approved the Climate Emergency Action Plan. This puts Vancouver on track to reduce our carbon pollution by 50% by 2030.

Human-induced climate change has led to devastating losses and damages to both nature and people, beyond natural climate disruptions. Within that, the most vulnerable communities are disproportionately affected.  The Intergovernmental Panel on Climate Change (IPCC) identified that at-risk communities, such as low-income and unhoused people, BIPOC residents, and disabled residents, were more likely to be severely impacted by climate change. 

In 2019, in response to the urgent message in the IPCC report, Vancouver became one of the first cities to declare a Climate Emergency. The IPCC called for urgent action from governments, highlighting cities as "a cause of and solution to climate change" with big opportunities to reduce emissions and the impact of climate change immediately. Vancouver took action and drafted their Climate Emergency Action Plan, making equity one of the core pillars of their efforts. 

Vancouver City Council came up with four main pillars to create change:
How We Move – "Nearly 40% of Vancouver's carbon pollution comes from burning gasoline and diesel in our vehicles. We need to move people and goods around Vancouver in a climate-friendly and equitable way."


How We Build and Renovate – "Nearly 60% of Vancouver's carbon pollution comes from burning natural gas to heat space and water in our buildings. We're working to make sure Vancouver's buildings are constructed and operated in a climate-friendly, healthy, and resilient way."


How We Capture Carbon Pollution – "By burning fossil fuels, we have put too much carbon into our atmosphere and it is causing climate change. We can make a difference by capturing carbon from the air and storing it in forests, kelp beds, and soils."


An Equitable Plan – "We're striving to respond to the climate crisis with ambitious carbon reduction policies and equitable implementation of those policies to make sure our climate actions work for everyone."
Over the past 4 years, we've grown a bike share equity program that supports two of the four pillars:
How We Move and An Equitable Plan
. The equity program, which we call the Community Pass, has served more than 1,500 community members since its launch.
The program focuses on equity by reducing the annual cost of a Mobi by Shaw Go pass from $159.99 to $20. Members are able to pay for the Community Pass with cash, debit, e-transfer or credit card and the pass does not auto-renew, ensuring that members have confirmed any charges occurring on their account. Extending the option to sign up without a credit card or bank account enables those who don't currently have or qualify for those to access bike sharing – which normally requires members to be banked and have a credit card.
Community members are eligible for the Community Pass if they have:
A Red Compass Card
A Leisure Access Pass
A Greater Vancouver Food Bank Card
Proof of income less than $27,000
Proof of disability status
A referral from one of our Community Partners
Now with a focus on making cycling an even more viable option to replace car trips,
Mobi by Shaw Go has launched ebikes!
With the introduction of Ebikes, Mobi by Shaw Go members will be able to ride farther in shorter amounts of time and with less physical exertion. Ebikes are a crucial part of supporting our community members whose disabilities make pedal bikes inaccessible. With the introduction of Ebikes in Vancouver, more community members will be able to choose active transportation.

So how does bike sharing help reduce climate change?
Well, according to the
United States Environmental Protection Agency
, the average passenger vehicle emits about 404 grams of CO2 per mile. Since 2018, Mobi by Shaw Go's Community Pass members have taken more than 123,000 trips and ridden upwards of 300,000km. Had all of our Community Pass members' trips instead been taken in cars that would have produced 54,150 kg of carbon dioxide.
Data reported by bike share cities throughout North America show that,
bike share rides typically replace between 25-50% of car trips
. A Vancouver study in 2019 showed that only 17% of bike share trips from 2016-2019 replaced car trips, so we still have some work to do there. Based on Vancouver's bike share use, Mobi by Shaw Go's Community Pass has likely helped reduce carbon emissions by more than 9,000 kg over the past five years, all while supporting vulnerable communities.
"I go grocery shopping, do weekend rides, accompany my wife and stay active. Mobi's Community Pass is part of our daily lives."
Some may question why the folks using bike share don't simply have a bike of their own but non-bike share cycling isn't always an option for everyone. Some folks don't have room or even a home to store a personal bike, some can't cover the upfront cost of a used or new pedal bike/ebike or the yearly maintenance costs of owning a bike, while other people may have mobility issues that don't allow them to carry a bike up and down stairs where they live. Bike sharing can help break down those barriers.
By having stations all across Vancouver, Mobi by Shaw Go's Community Pass helps cyclists focus on what matters most to them:
An Inexpensive Commute Option – Used pedal bikes can cost anywhere from $100+ with new bikes usually costing upwards of $800. Most Ebikes start at around $1500, outpricing the vast majority of residents. At only $20 a year, our Community Pass cuts that cost into a mere fraction. Some of our members even receive the Community Pass at zero cost, with Community Partners and Sponsors covering the full cost of the pass for certain groups.
One-Way Trips – The bikes can be unlocked from one station and returned to any other station in the system, making bike share ideal for short, one-way trips. You can use them to commute, run errands, visit friends, or casually cruise the city.
No Worries About Theft – Bike share users don't have to worry about locking their personal bike, that they may have spent a large sum of change on, being locked outdoors for long periods of time and being stolen. With bike share, you always know that there's a bike nearby for your next trip and once you dock the bike you don't have to spare a moment worrying about your precious bike being stolen.
Less Traffic & Fewer Parking Issues – Bike share users don't get caught in vehicle traffic and can reduce their commute times by using a bicycle during rush hour times. They also spend considerably less time finding parking, as there's often a dock open at each Mobi by Shaw Go station.
Incorporating Movement Into Every Day – Cycling to and from work, activities, or events turns exercise into a natural part of a bike share members' routine. Ebikes open up the possibility of daily active movement into the lives of those who cannot use pedal bikes.

"The Community Pass has allowed me to access affordable transportation and keep me active. I live with a disability and receive assistance. I would not otherwise be able to afford this amazing resource. THANK YOU."
Vancouver's bike share program isn't only changing the lives of the individuals who use the program though, there are large-scale benefits to having a bike share program in our city:  
Sign up for Mobi by Shaw Go and get started reducing your carbon footprint with pedal bikes and ebikes!!