Mental Health Awareness Month 2023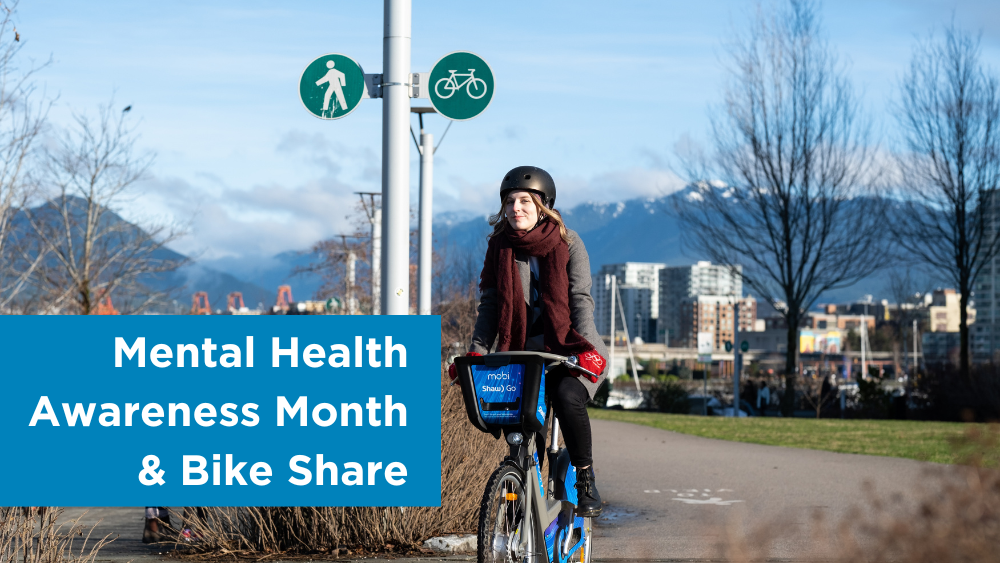 May is Mental Health Awareness Month!

At Mobi by Shaw Go, we believe that bike share and cycling can play a crucial role in mental health. In addition to a number of internal initiatives to support mental health, our team wanted to highlight some of the wonderful ways that cycling and bike share can be a mental health support tool.

Something that people may know but take for granted, is that cycling can positively effect your mood. Going for a bike ride is an aerobic exercise that can produce both serotonin and endorphins! Serotonin is a neurotransmitter in your brain that affects your mood and people with high levels of serotinin are happier. Serotinin's ability to improve mood is why it's often a target of medications that are used to treat depression, anxiety, and other mental health conditions. 

Cycling can also activate parts of the brain that lead to euphoria and help decrease symptoms of depression longterm. As bike share users are cycling outdoors, they'll also be gaining Vitamin D on sunny days and helping themselves further regulate their mood and reduce symptoms of depression as well as anxiety.
---
Check out our
Member Spotlight with Lesley Parris
and learn how she has made bike share part of her wellness tool kit as she discusses the importance of dedicating time for yourself. 
---
Part of acknowledging Mental Health Awareness month is also supporting the mental health of neurodivergent people, who often don't receive as many support systems and may deal with more mental health struggles. Some ways that bike share supports people with
ADHD, PTSD, or autism
 are with its ability to provide a mode of transportation with less nearby stimuli (fewer bright lights, strong smells of perfume or body odour, people talking or yelling, or people pressed against you). You can also start and end your ride and sign up for a membership without needing to interact with other people, which can be particularly helpful to those who are in
nonverbal or hypoaroused states
(dissociated, numb, unable to speak comfortably or at all, shutdown, etc.).
When using bike share, you have control over when you leave and when you arrive at your destination. Because the service is available 24/7 you don't have to worry about an unavailable bike late at night or early in the morning, or about missing a scheduled time and then having to wait or find an alternative way of getting to your destinaton. Simply walk to your nearest station, grab a bike, and head off! Avoid the stress and frustration of rush hour traffic by cycling during peak commute times.
We also wanted to highlight some amazing local organizations doing work to support the mental health of our community.
Vancouver-Local Mental Health Oriented Organizations
Vancouver Black Therapy & Advocacy Foundation
Webite: 
https://vancouverblacktherapyfoundation.com/home
VBTAF is a non-profit organization that raises funds to connect Black community members with accredited Black counsellors and therapists locally.
WISH Drop-In Centre
Website: 
https://wish-vancouver.net/
Their mission is to improve the health, safety and well-being of women who are involved in Vancouver's street-based sex trade. 
Battered Women's Support Services
Website: 
https://www.bwss.org/
Battered Women's Support Services provides education, advocacy, and support services to assist all women in its aim to work towards the elimination of violence and to work from a feminist perspective that promotes equality for all women.
MOSAIC
Website: 
https://mosaicbc.org/our-services/health-and-counselling/
MOSAIC offers many physical health and mental well-being programs to help in your transition and settlement. These programs provide counselling, referrals, and group events to support your wellbeing.
WIRTH
Website: 
https://wirthhats.com/
WIRTH is a hat company committed to doing something about mental health. Proceeds from your purchase go towards supporting mental health initiatives and the WIRTH Foundation's Counselling Fund.
Access more mental health resources here