Mobi Member Profile: Meet Erin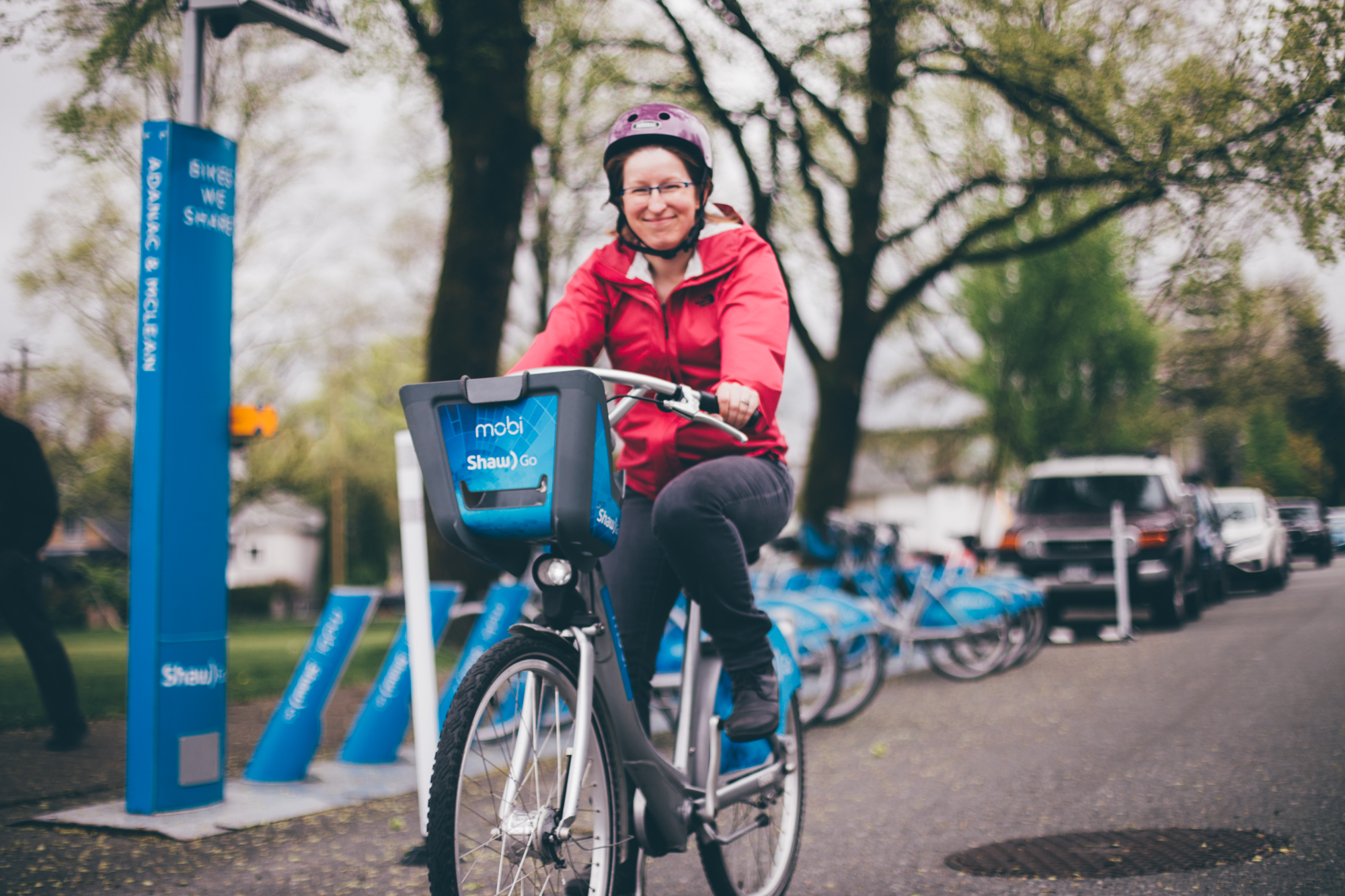 Meet Erin,
Erin is originally from a small farming community outside of Dawson Creek and grew up riding bikes down dirt roads, but gave up cycling when she moved to Vancouver for university. Before she joined Mobi, it had been almost 20 years since she last rode a bike.
Erin is a communications professional and has worked in various industries including sports, education, transportation, and liquor. Outside of work, she is a "slow-but-steady runner" in the summer and avid snowshoe-er in the winter.
We asked her a few questions about her Mobi by Shaw Go experience. Here's what Erin said:





1) When was the last time you rode a bike?
I was getting downtown late after seeing a movie, and didn't want to wait for a bus to complete my journey, so I grabbed a Mobi and pedaled the final 2km from the Canada Line station to my home.
2) How do you integrate Mobi into your daily routine?
I don't have a driver's license, so I often use Mobi for running errands downtown like dropping off library books or grabbing a few groceries. Mobi is also an easy way for me to access local businesses that are a little too far to walk to, but not on a convenient bus route.
3) Where is your favourite place to Mobi to and Why?
In the summer, one of my favourite things to do on a Saturday morning is take a Mobi to the West End Farmers Market. There's a Mobi station right there at Nelson Park, and if I end up buying too much to fit into the basket, I can always go multimodal and take a bus back home.
4) What is your favorite part of Mobi by Shaw Go?
I appreciate the flexibility of being able to do one-way trips, as well as the fact that I don't have to worry about storing my own bike in my apartment.
5) Do you have any Mobi by Shaw Go tips or tricks?
It's Vancouver. It rains. And nothing's worse than getting the seat of your pants soggy. But rather than let that prevent me from going for a bike ride on a rainy day, I tuck one of those little super-absorbent hand towels into my pocket. A quick wipe of the bike seat after unlocking the Mobi and you're good to go.
6) Words of encouragement for new users?
Don't let fear of cycling in traffic keep you from trying out Mobi! Plan your route to match your cycling comfort level. When starting out, I mostly stuck to the Seawall and the fully-separated bike lanes - and they're awesome! We really do have some awesome infrastructure for cycling in our city, and hopefully more to come. Yay bike lanes!