4-Year Community Pass Anniversary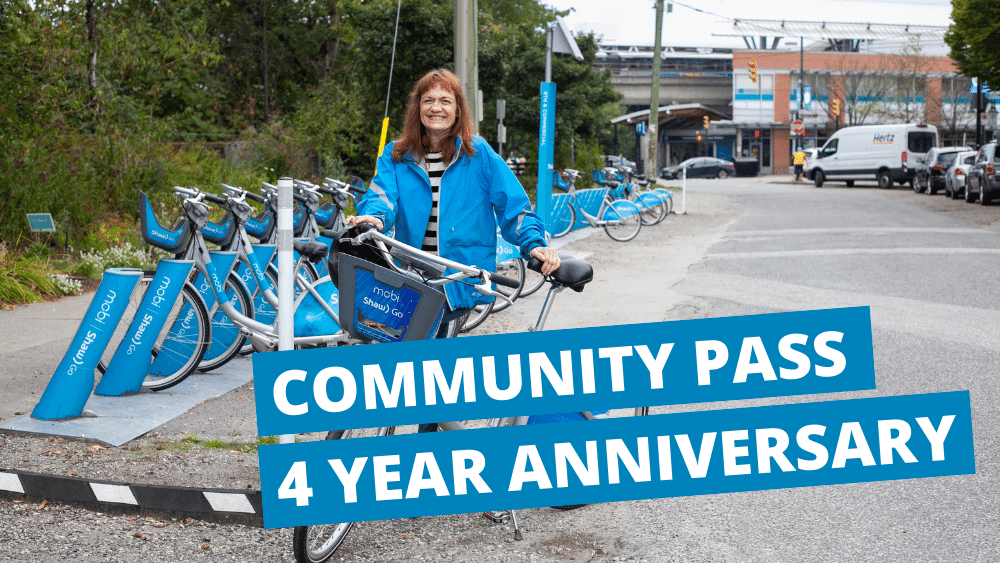 Since 2018, equity has been at the forefront of Mobi by Shaw Go's vision for bike share. By introducing a $20 annual Community Pass in June of that year, Vancouver's bike share program became more accessible to those who need it most. 

The Community Pass provides access to bike share for people who are low-income, who access disability and social services, and historically marginalized communities supported by local nonprofits and government agencies. Mobi by Shaw Go is continuously looking for Community Partners whose community could benefit from our $20 annual pass to form a diverse array of partnerships. 

If your members could benefit from access to a $20 annual Community Pass to Mobi by Shaw Go please send an email to communitypass@mobibikes.ca to express in your interest in becoming a Community Partner.
 

To ensure that we're improving our Community Pass in a way truly equitable, we continuously analyze the areas people face barriers to accessing programs like ours. Many bike share programs require a credit card, which, according to the Canadian Bankers Association, immediately rules out at least 28% of the Canadian population who don't own one. There are also many folks who have credit cards that are currently at their limit. That's why the Community Pass accepts cash, debit, and e-transfer in addition to credit cards.
One of our favourite parts of running the Community Pass program is hosting group rides for current or prospective members as well as Community Partners and sharing the joy of cycling with Mobi by Shaw Go. If you're a current Community Partner and you would like to host a group ride for your community, reach out to the Community Pass Coordinator.
In the four years that Mobi by Shaw Go's Community Pass has been operating, we've supported more than 1,200 community members in accessing bike share at almost a tenth of the regular cost. Seeing how integral bike sharing can become to our community's daily lives has brought our team tremendous joy over the past four years. But you don't have to believe us, hear it from our members themselves!
"It helped me to have more mobility in the city and also visit my daughter more often. Thank you!"  – Barb
"I have chronic foot and joint pain so riding the Mobi bikes has been a healthy, active alternative to walking." – Bex
"It gets me the last mile. It's flexible. It's reliable and the stations almost always have the optimal number of bikes. It gets another car off the road." – Matthew
"Mobi helps me stay active and improves my mental health. Nothing is better than feeling the ocean breeze and sun on my face while bike riding." – Ashley
"Me and my family have finally been able to get physical exercise more easily! Has really helped with our mental health as well."
– Andrew
Going into the 4th year of the Community Pass, Mobi by Shaw Go is adding two additional ways residents can qualify: Annual income of less than $27,000 or people with disabilities. These two new eligibility methods further the goal of equitability within bike share, while expanding the number of people who can qualify for a low-cost pass option. If you or anyone you know matches any these eligibility methods, you qualify for a $20 annual bike share pass:
You have a Leisure Access Pass
You have a Red Compass Card
You have a Greater Vancouver Food Bank Membership Card, 
You have an income of less then $27,000 annually
You are on disability assistance or
You have a Third Party Referral from a Community Partner organization
With some exciting times ahead of us, let's take a look at some of our wins throughout the last four years…  





















If you're interested in the Community Pass and would like to apply to become a member, complete your application by clicking the button below!