Member Spotlight: Scavenger Coffee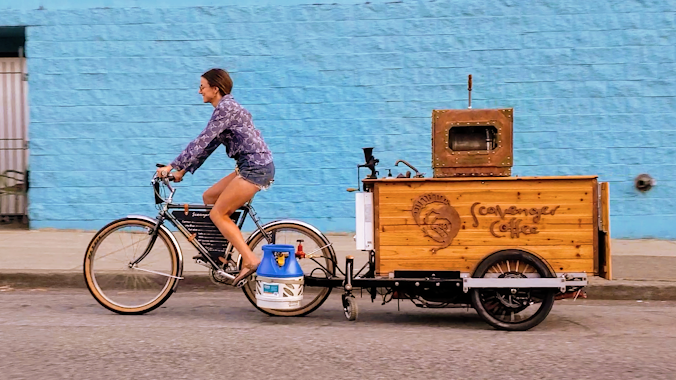 • Tell us a bit about your business.
Scavenger Coffee is a mobile coffee shop, pulled behind a bicycle. We (Diana & Rory) handbuilt the cart from local and scavenged materials and topped it off with a 1970s Italian espresso machine.
We both got into biking around the same time, when we moved off-campus from UBC and realized that it's the best way to get around the city. Bike commuting turned into bike touring and eventually we flew with our bikes to the west coast of Scotland and biked all the way to Crete!
A few years earlier, Diana had worked with Shift Delivery, which is a cargo bike delivery co-op. They inspired us and showed us the potential of a bike-based business, so when we got back from Greece, we started building our own bike-based business focused on coffee instead of cargo — although we're hauling about the same weight!
We pop-up at farmers markets, festivals, catering gigs, and sometimes street sales in the park. Our Instagram is the best way to see where we're biking to next.
• How did your business get started with Mobi by Shaw Go?
Through mutual friends we met Rowena who was the Hub Bike to Work Week manager. She became a good friend and also a regular at the coffee cart at Dude Chilling Park, and while discussing our logistics issues she recommended Mobi bikes.
• How do you integrate Mobi by Shaw Go into your business?
Because we're a mobile business, we have the funny problem of having barista shifts start in one spot (our commercial kitchen) and finish in another spot (wherever the coffee cart is parked that day).
When we first started up it was just the two of us. Since we live together — and have the same leg length — it meant we could bike directly from the house to the coffee cart and trade personal bikes with the other person. Then they were free to bike straight home if they wanted.
That system broke down when we hired our first person, and now the person on the late shift had to bike to the kitchen first, grab the other barista's bike, adjust the saddle height, then bike to the cart to swap bikes.
Mobi bikes solved our one-way logistics headaches by allowing the late-shift barista to come straight from their house, while also allowing the early-shift barista to leave directly from the park. We easily saved 20-30 minutes from each person's day.
• Favourite place to ride and why?
We ride the Union-Adanac corridor every day and I enjoy seeing the commuter rush of cyclists and thinking about how many cars that's removing from Prior/Venable St. one block over.
I also love the ride out to Spanish Banks to play beach volleyball. Thanks to bike lanes, there are only a handful of intersections on the 12 km ride right through the heart of the city, which is pretty incredible.
• What is the biggest impact that Mobi by Shaw Go has had on your business?
The biggest impact is saving time, but also it saves a lot of stress trying to plan logistics the night before: figuring out who's working, where they're coming from, how long their legs are..
• What are the other benefits you have noticed while using bike share?
Although we initially got it to help with the business, I (Rory) have started using it for all sorts of trips around town. If I'm going to a show and don't want to leave my bike locked up outside all night, I'll take a Mobi. I'm the type of person who will worry about my bike the whole time (because I've had a bike stolen).
• Any messages you would like to pass on to those thinking about getting a Corporate Pass?
Talk to your employer and bug them to set up a corporate account so you can get a discount!
Is there anything else you would like to add? A favourite moment maybe?
Favourite moment: Pedaling my hardest to pass the spandex riders while sitting in the most upright position and trying to look like I'm not trying.
Another favourite: Seeing our friend Madeleine Chaffee's
cupcake mobi bike
out in the wild!